Always feel the phone memory is not enough! Is not it? ? Unless you have the time and expertise to delete some unnecessary files and Apps. When you hands to organize the phone storage space, you may found the video file may taking up the most storage space, so you'll feel just delete this video will instantly solve the problem of lack of storage space. In fact, APP, photos, music and more will take up a lot of unnecessary space. Today, let us teach you two ways to release the iPhone storage space.

2 Easy Ways To Free Up A Lot Of Space On Your iPhone

First thing: Find out what's taking up the most space on your phone. You may have some unexpected storage hogs.

Way 1: Free Up iPhone Storage by Deleting iPhone Contents through Usage Setting

Fortunately, iOS 7,iOS 8,iOS 9 can easily see what types of files take up storage space, simply delete the largest files can easily free up more storage space.

First, open the Settings -> General -> Usage. The list shows which items have occupied storage space, and what is the biggest space project Yes.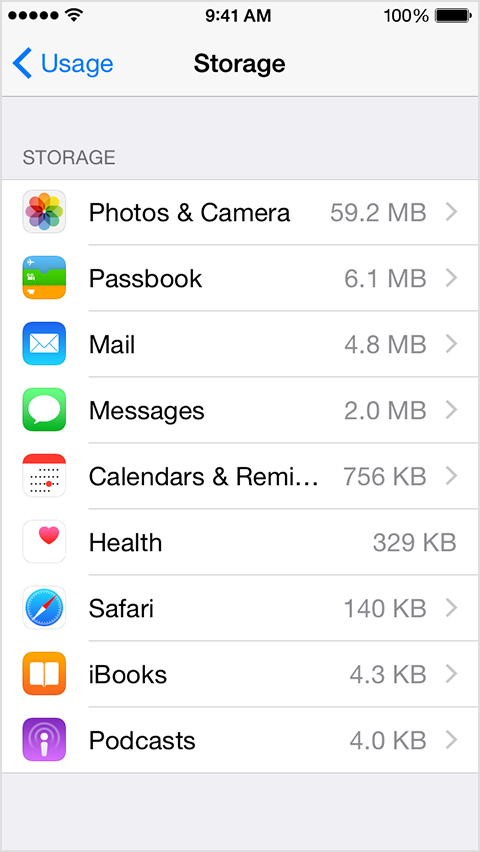 Remove the movies and TV shows:
Click on the video, you can see a list on the left image shown in the following figure.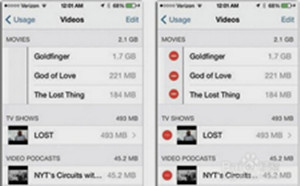 Top right, click the Edit button, the red delete button will appear, as shown on the right side of the picture shown, now you can begin to free up some space.

Delete pictures with the camera:
This list shows the camera roll, photo gallery and photo streams are taking up much space, but it can not be deleted individually. Delete photos fastest way is to connect to iTunes, import photos, and then delete it.




If the photo may be part of a backup, delete the backup.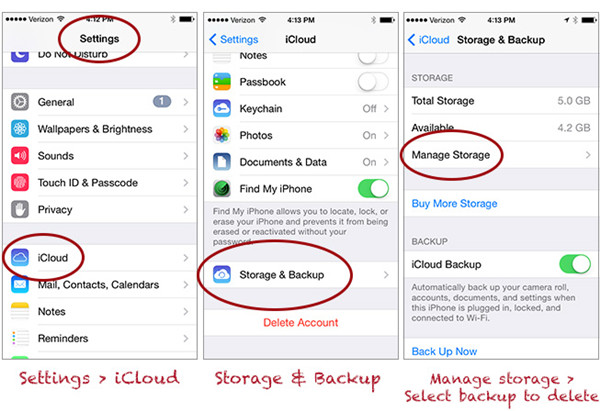 Your device backs up its data to the cloud when it's connected to both WiFi and a power cable. Unless you specify otherwise, that includes your entire Camera Roll. It's like a mini-time capsule. In short, a photo you took a month ago and just got around to deleting may still be in the cloud if your phone backed up in between. (Celebrities' backups saved to iCloud servers likely gave hackers access to the personal photos leaked in September.)

So, to delete a backup, go to Settings > iCloud > Storage & Backup > Manage Storage, then select your device and the backups you'd like to remove. (These steps look slightly different from the image above on iOS 8.) You also can prevent photos from being included in future backups by toggling Camera Roll off.

Remove unused APP:
In the amount of the list, a long list of applications, view details for these applications, you will find a button to remove the application. Delete those APP rarely use or do not want to reuse it.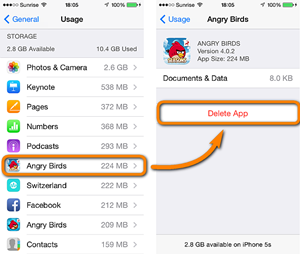 Delete other items:
In fact, not all options are present in the amount of the list.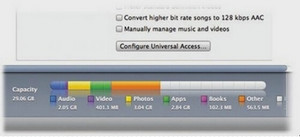 Way 2: Free Up iPhone Storage by Compress iPhone Photos or Export Photos to PC

Many people like taking photos and videos by iPhone,and iPhone photos will takes up lots of space on our ios devices. To get more storage space,we can permanently deleted photos on iPhone; export iPhone photos to PC or compress photos on iPhone without distortion.

iPhone Data Eraser not only can help you to permanently erase all files on iPhone 6s Plus, 6s, iPhone 6 Plus, 6, iPhone SE, iPad Pro and more, but also help you free up iPhone storage by compressing iPhone photos or export iPhone pictures to computer directly.What's more,the iOS Data Eraser allows users fix and optimize slow iPhone problem easily.






Step 1 Connect iPhone to PC and Run the Program
First of all,please free download the iPhone Data Eraser and install it on PC. Then connect your iPhone device to the computer with the help of USB cable. After that, you will see the interface as below. If you want to free up iPhone storage,please choose the fourth option, "Space Saver" from the interface.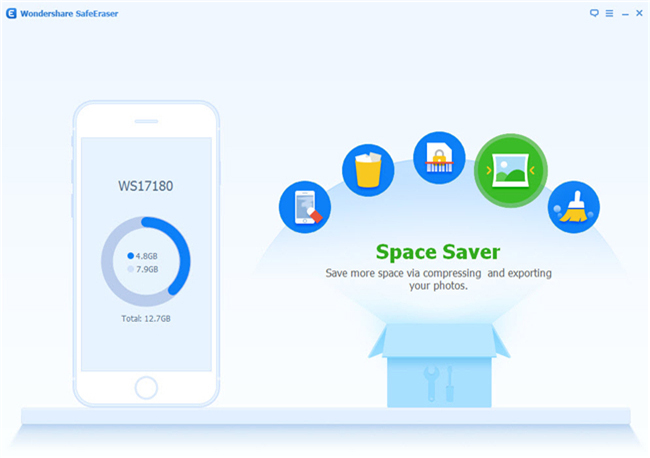 Step 2 Compress iPhone Photos or Export to Computer
In this step,the program let's you processing your iPhone photos, you can seee threre are two options for you to choose in the interface – "Compress and Export". By choosing "Compress", you will get a loseless compression to free up almost 75% space of camera photos. By choosing "Export", you can copy photos on your computer.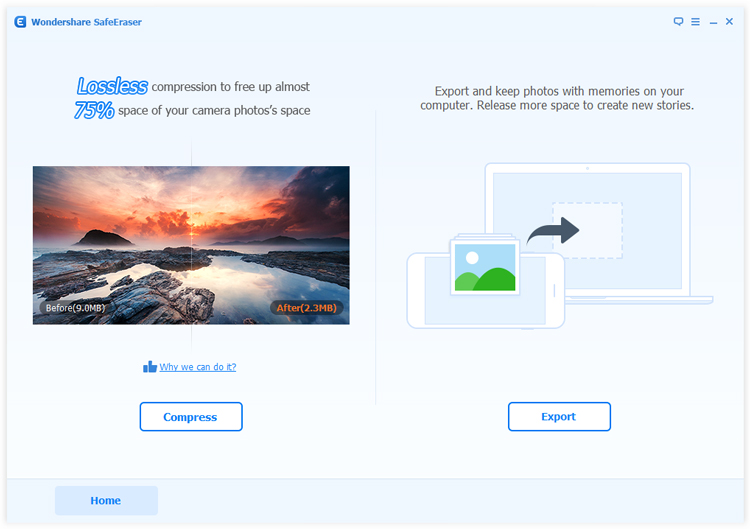 Step 3 Scan and Preview iPhone Photos before Compression
Then, the iPhone Data Eraser program will begin scanning your iPhone device file for camera albums. All the photos, iPhone camera roll you take with the iPhone camera will be detected and listed in the interface. You can preview and tick all those photos that you want to transfer to computer.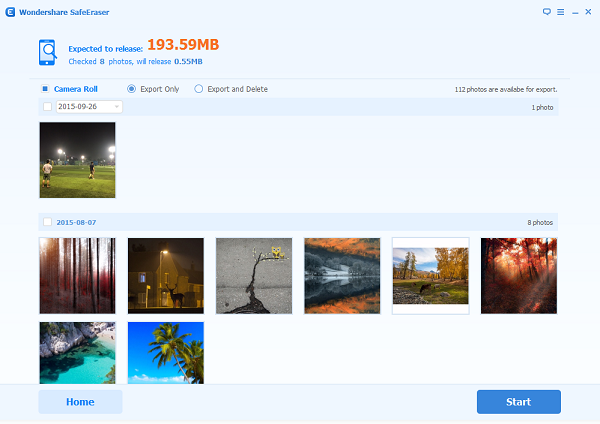 Well done!Only few steps you have compressed all of your iPhone photos or backup iPhone photos to computer,the iPhone Data Eraser only only can help you compress iPhone pictures or export to PC to free up iPhone space,but also enable you wipe other junk files and optimize your slow iPhone to speed up the iPhone device easily. Now,please free download the iOS Data Eraser and have a try,and feel free to contact us and we will help you solve any phone problem.






Related Articles:
---
Permanently Delete Text Messages from iPhone for Sale

How to Delete iPhone Contacts before Selling

How to Delete Photos/Videos from iPhone before Selling it

How to Backup and Restore iPhone Data