[Summary]:Accidentally deleted WhatsApp photos and videos on your Android phone? This article will teach you two ways to recover WhatsApp videos and Images from Android phone,like Samsung Galaxy S8/S7/S6/Note 8, HTC, Huawei Mate 9/P10, Google Pixel with WhatsApp backup and Android WhatsApp Photos, Videos Recovery.

WhatsApp app is a popular free chat Apps,more and more users chat online with WhatsApp app,you can sending or receiving pictures, videos and text messages through WhatsApp on Android phones.Sometimes you may lost or deleted WhatsApp imanges and videos on your Android phone due to improper operation,such as deleted by careless, rooting, factory reset, phone broken, system breakdown,etc.

You may want to know:

* How to Transfer WhatsApp from iPhone to Android

* How to Recover Text Messages from Broken Samsung

So how to recover lost or deleted videos and pictures from WhatsApp attachments on Android? Here are two methods to recover deleted WhatsApp photos and videos and you can also use the Android WhatsApp recovery to recover deleted images and videos from WhatsApp.

Way 1: Restore deleted Pictures and Videos from Android Phone with WhatsApp Backup

As we all knows that WhatsApp backs up everyday automatically, and if you just lost your WhatsApp pictures and videos within seven days, you can restore them with Auto-backup for WhatsApp. Let's learn how to WhatsApp attachments,like photos and videos with WhatsApp recovery.

Step 1.Uninstall and Re-install WhatsApp on your Android phone.

Step 2.After re-installing the WhatsApp App on your phone,there will be a notice pop up your Samsung or other Android phone,please click "Restore" to retrieve them back.

Step 3.Waiting for deleted WhatsApp photos and videos recovery.
Only few minutes, all of your deleted files within 7 days are retrieved back from backup for WhatsApp, including your photos and videos on WhatsApp app.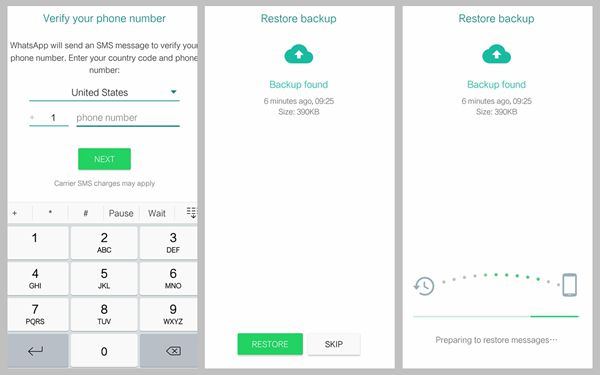 Also, if you deleted your WhatsApp videos and photos by deleting your whole chat history, you can view and find these pictures and videos easily. Just go to "/sdcard/WhatsApp/Media", and you will find folders for audio, video and images you sent or received on WhatsApp.

Advantages of restoring from WhatsApp backup:

1.You can achieve your WhatsApp videos and photos recovery for free.

2.It is easy to operate.

Disadvantage of recovering from backup:

1.You can only restore files deleted within 7 days.

2.With this backup restoring method,your current file will in WhatsApp will be lost due to data overwrite.

Way 2: Recover deleted Photos and Videos from Android without WhatsApp Backup

The photos and videos on WhatsApp app you have deleted over a week,you cannot recover WhatsApp files with WhatsApp backups. Don't worry,you can use a Android Data Recovery to recover lost WhatsApp sending and receiving pictures, video and WhatsApp messages,even you have deleted seven days ago. What's more,this program also allows you recover other lost data on Android phone,including library photos, videos, contacts, text messages, call logs and documents.

Now,please download this Android Data Recovery and follow the guide below to retrieve deleted WhatsApp chat history, videos and pictures from Android without WhatsApp backup.




Easy Steps to achieve WhatsApp Pictures and Videos Recovery

Step 1.Connect Android Phone to Computer
After downloading and run the Android data recovery program on your PC or Mac,then connect your Android phone with computer via USB cable.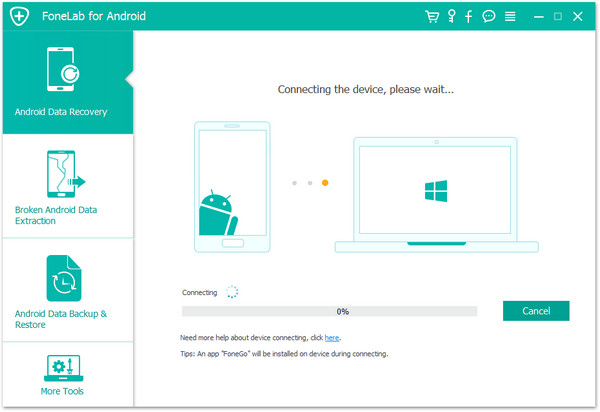 Note: If you connect your Android phone to computer and this app fails to detect it, you need to enable USB debug.

Step 2.Enable USB Debugging on Android
If your Android device isn't detected by the program, you need to enable USB debugging on your phone. Check what Android OS is your Samsung and then choose the right way to open USB debugging follow below steps:

1) For Android 4.2 or newer: Enter "Settings" > Click "About Phone" > Tap "Build number" for several times until getting a note "You are under developer mode" > Back to "Settings" > Click "Developer options" > Check "USB debugging"
2) For Android 3.0 to 4.1: Enter "Settings" > Click "Developer options" > Check "USB debugging"
3) For Android 2.3 or earlier: Enter "Settings" > Click "Applications" > Click "Development" > Check "USB debugging"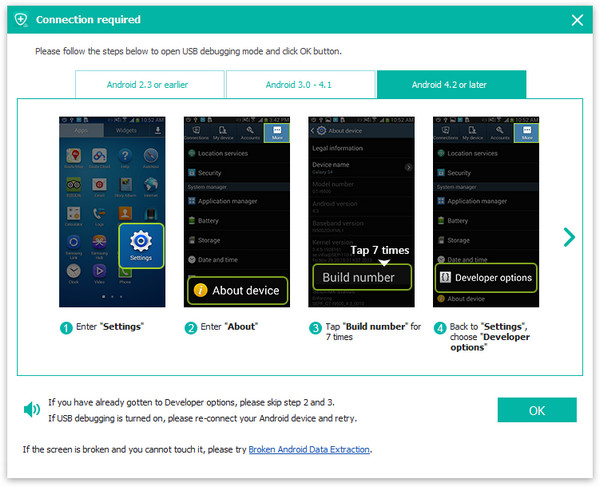 If your Android os version is 4.2.2 or above, there will be a pop up message on your Android phone, tap on OK to allow USB debugging.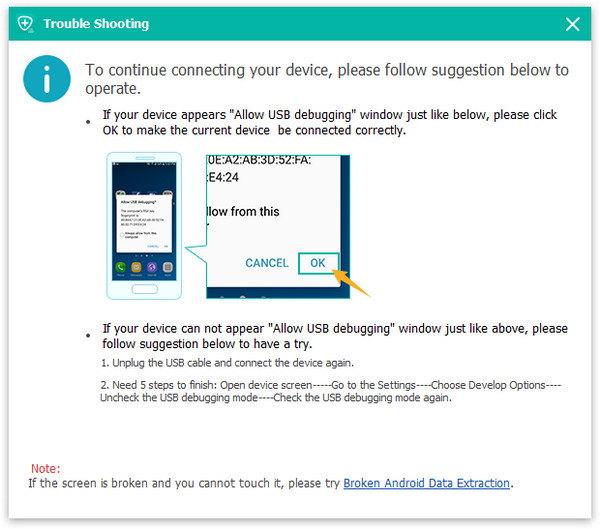 Tips:
1.Android 4.2 or later: Samsung Galaxy S8/S7/S6 Edge/S6/S5, Samsung Galaxy Note Edge/Note 4/Note 3/Note 2, Samsung Galaxy Tab S/Pro, LG G4/3/2, HTC M10/9/8, Google Nexus 10/9/7/6/5/4, Google Galaxy Nexus/Nexus S, Xperia Z3/Z2/T3/M2/Z1, etc.

2.Android 3.0 - 4.1: HTC ONE M7, HTC EVO 4G LTE, etc.

3.Android 2.3 or earlier: Samsung Galaxy S2, Google Nexus One, etc.

Step 2.Select WhatsApp & WhatsApp Attachments
Different types of Android files can be chose to be scan, it will, with no doubt, save your time. If you just want to recover WhatsApp photos, videos and chat history,please tick "WhatsApp" and "WhatsApp Attachments", if you want to recover all lost data,please tick "Select all" to have all your Android data scanned.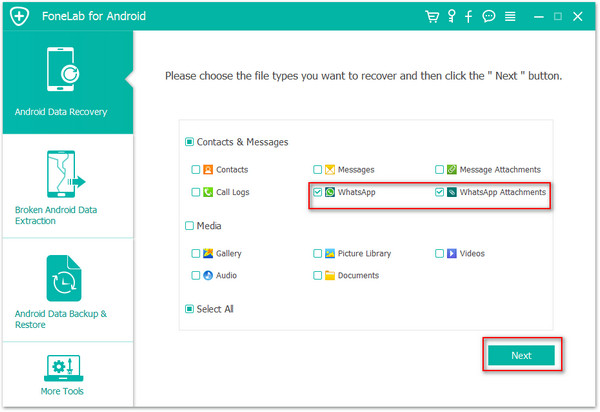 Step 3 Allow to Scan and Analyze Android Phone
After your device is detected by the program, you'll get a window as follow on your device. Tap "Allow" to enable the program to scan your device for lost data.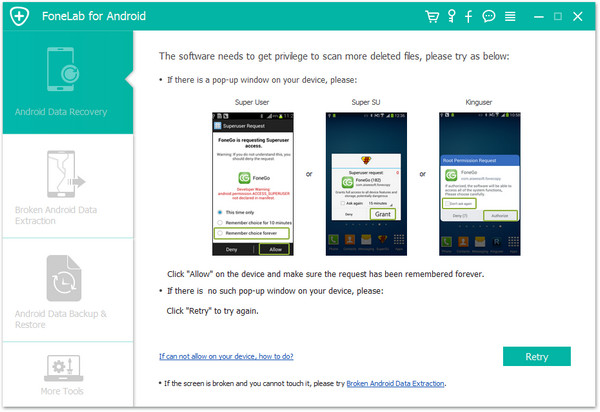 Note: Before starting, please make sure that your phone battery is more than 20% charged.

Step 4.Scan Lost WhatsApp attachments on Android
When your Android phone is recognized by the software, you can see all the files from the main window. Select WhatsApp Attachments, and click "Next" to scan.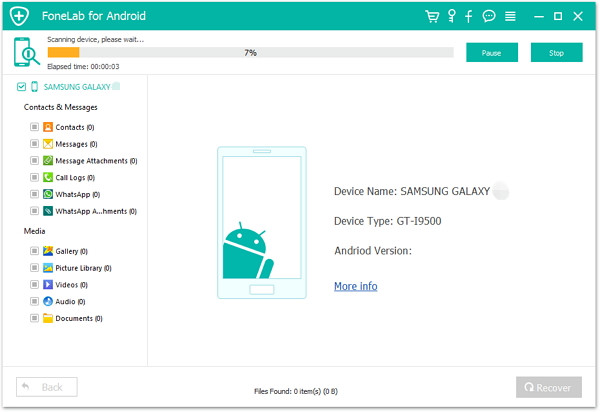 Step 5.Preview and Recover Lost Photos, Videos and WhatsApp attachments from Android
After scanning, all the data will be listed in the window. Tap "Only display the deleted item(s)" on top of the right window, and choose the WhatsApp videos and images you want to recover,mark those you want and click "Recover". You can selectively save them on your computer.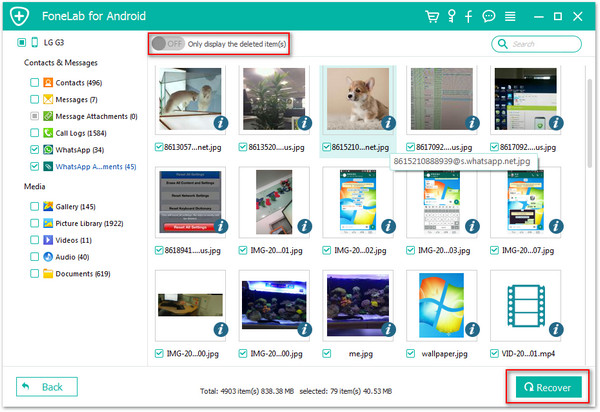 When the recovering process is done, WhatsApp videos and pictures are recovered to your computer, and you can get them back to your Android phone or make other operations as you like.

Download it and try to recover WhatsApp data from Android devices by yourself!






Whats More about Android Data Recovery:
---
This Android Data Recovery not only can help you recover WhatsApp videos/images,but also allows you recover deleted WhatsApp messages on Android and other Android data,including contacts, SMS, photos, videos and more.In additional,if your phone is broken,the Broken Android Data Recovery features also allows you recover WhatsApp messages and WhatsApp attachments from broken Samsung Galaxy S6/S5/S4/Note 5/Note 4/Note 3 with broken screen or black screen.

-Recover deleted SMS, contacts, call logs and documents from Android phone/SD card.
-Retrieve lost photos, music, videos and WhatsApp file from Android device.
-Restore deleted data from Samsung, HTC, LG, Huawei, Sony, Sharp, Windows phone, etc.
-Back up Android data to PC or Mac for forever preservation.
-Fix frozen, crashed, black-screen, virus-attack, screen-locked phone to normal.
-Extract messages, contacts, call history, WhatsApp, photos, etc. from broken phone.
-Recover deleted files from Android phone/SD card/tablet on Windows 10/8/7 and macOS Sierra/macOS High Sierra.

Tips: Backup WhatsApp Media Files from Android

As you can see above, you are able to recover deleted WhatsApp photos and videos on your Android device over days. Though you can get back lost data easily, you are recommended to back up your Android WhatsApp frequently to prevent your important WhatsApp chat history from losing.Here,you can use this Android Backup & Restore tool to backup all data including contacts, SMS, WhatsApp chat history from Android to computer.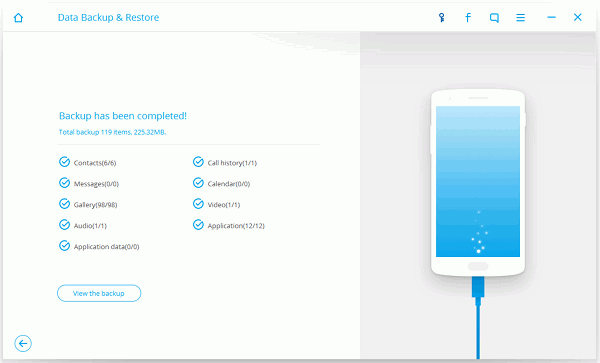 Related Articles:
---
How to Recover Deleted Photos on Android
How to Recover Lost Videos on Android
How to Recover Photos from Broken Android
How to Retrieve Lost Data from Android
How to Backup and Restore Data on Android