Backup and Restore Your Android Data on Computer
How much important information do you keep on your Android?Would you be heartbroken if your Android was lost or stolen,and all your photos, text messages, contacts, and other valuable data were gone for good,too?Prevent that disastrous scenario by backing up your phone.The key to backing up any data is redundancy.No matter what mobile phone your are using now, iPhone, Samsung, HTC, LG, Sony, Huawei,Motorola,or other bands of Android phones, you should always backup your data to computer as often as possible.I recommend making the first backup of your Android data be a copy of the SD card or keep them on your computer. I'll list the basic steps here, but note that, with Android devices, there may be slight variations in the exact wording or steps.

How to Back up Files from Android to Computer

Here provides you an useful solution - Phone Transfer and Phone Transfer for Mac,both enables you to backup and restore android data on computer,including contacts, text messages, calendar, call logs, playlists info, apps, photos, music and videos.Phone Transfer supports to back up files from Android to computer with simple process,the following passages are the detail steps.

Free download the Phone Transfer and begin to backup and restore your Android phones or tablets:






Step 1.Download and Run Phone Transfer
Click the buttons below to download and install the software on PC or Mac.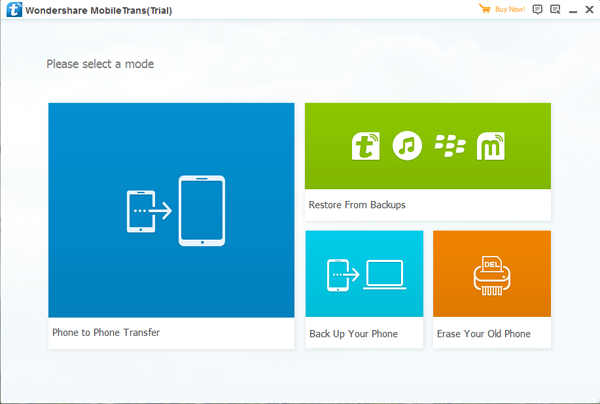 Step 2.Run the Phone Transfer and Select Backup Mode
Install and run the Android files backup tool on your computer.You'll be asked to select a mode.Choose "Back Up your Phone".




Step 3.Backup Android Files to Computer
Connect your Android device to computer.And you can see that all your Android data (Music, Videos, Photos, Contacts, SMS and Apps) can be detected by the Phone Transfer app and listed in the middle.You can backup these data one-by-one or all at one time by checking the box and click "Start Copy".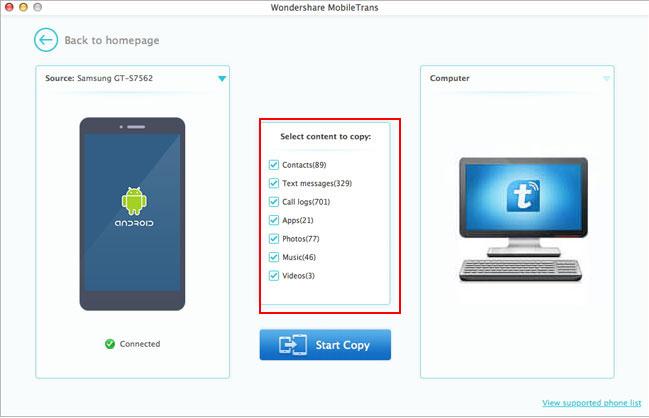 Only a few minutes later,all selected files will be backup to computer from Android completely with Phone Transfer.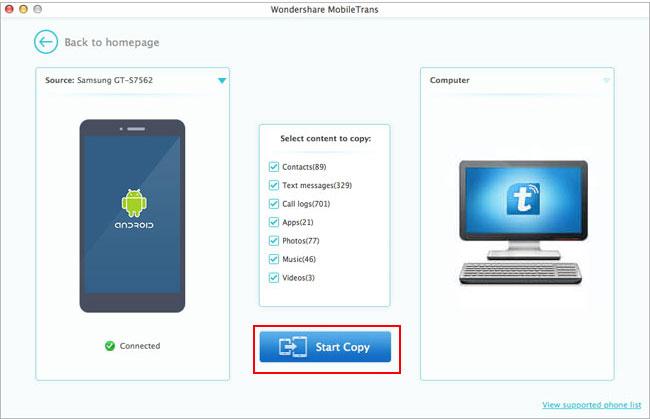 Restore Backup Files to Android Phones or Tablets

Phone Transfer is one of the effective and useful data manage programs available for you. You can easily use this program to restore backup files to Android devices, and selectively choose files to transfer through two mobile devices of different operating system. Messages, contacts, photos and videos are all supported to restore to Android devices. Now,just come and follow us, with the step-by-step guide below, you can know well how to restore backup files from Android.

Part 1.Restore Backup Files from Phone Transfer to Android

Step 1.Firstly,please open the homepage of the program, and choose the panel of "Restore From Backups" and press "MobileTrans" to going on.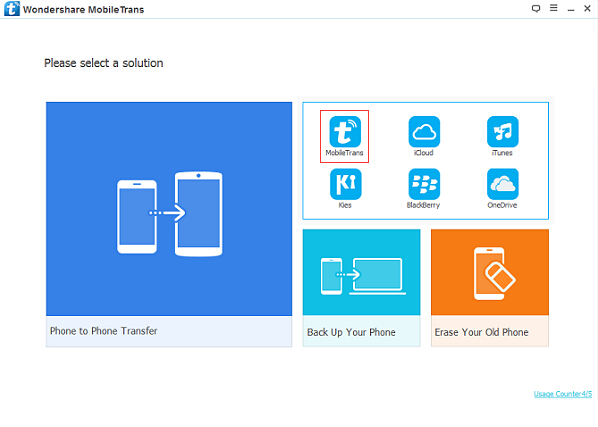 Step 2.Click and find the previous backup file from the drop-down menu and the program will start to scan and extract the data from it, when the scanning is finished, all the scanning result will be listed in the middle of window.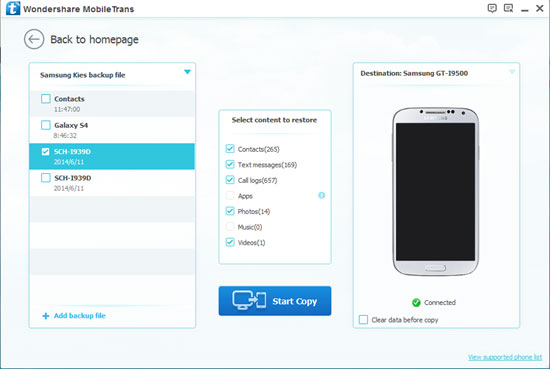 Step 3.You should select the files you wanna restore to Android,then click "Start Copy" to restore them to Android devices.

Part 2:Restore Kies Backup Files to Android

Step 1.If you used to use Samsung mobile phone or tablet, you may have a Samsung Kies Backup files,then you can choose the "Restore From Backups" option and press "Kies" to move on.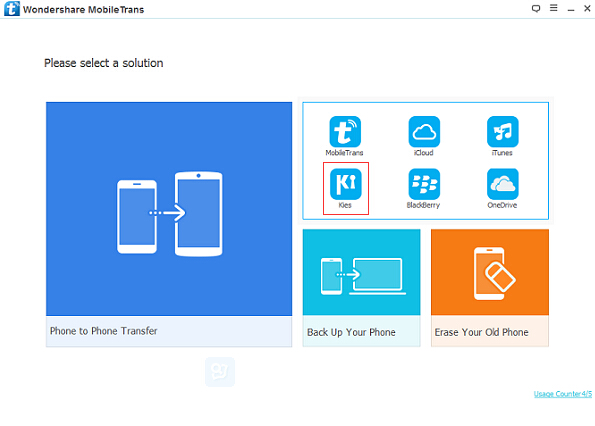 Step 2.Select the files you want to restore from the Samsung Kies backup files on the left,then click on "Start Copy" to begin the restore process.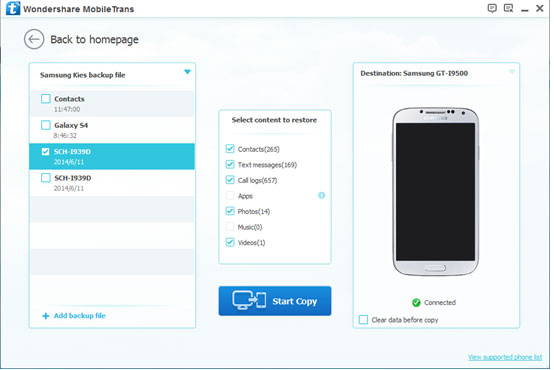 Part 3:Restore OneDrive to Android

Step 1.For Windows phone or Lumia phone users, when they need to restore the backup files of Windows phone to Samsung or other Android device, the best choice that must be the OneDrive. After selecting "Restore From Backups"mode, just click "OneDrive".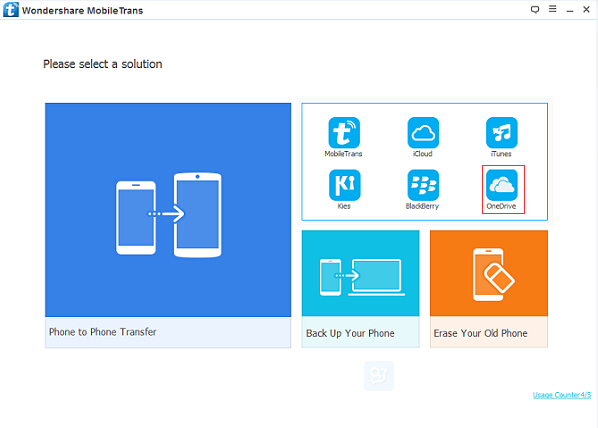 Step 2.Sign in your OneDrive account and then load your need backup files.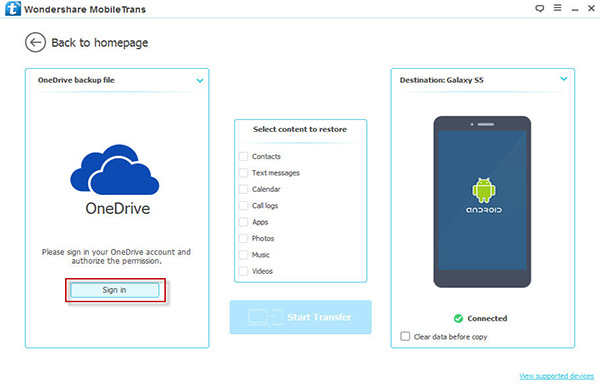 Step 3.In this step, the program support to restore several files to restore ,including contacts, photos, videos, music and more from OneDrive to Android devices. Choose the content you want and click "Start Copy" to move on.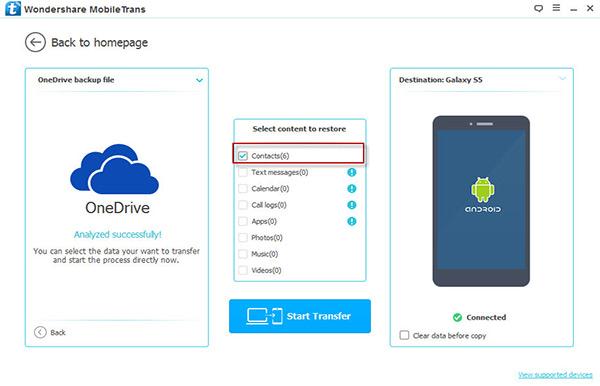 Part 4.Restore BlackBerry Backup Files to Android

Phone Transfer compatible with BlackBerry OS 7 & 10, and earlier,so if you ever backed up your BlackBerry phone data with BlackBerry® Desktop Software V7 and V10, you can restore BlackBerry backup files to Android devices with a click, like contacts, text messages, call logs and more backup files.

Step 1.Click on "Restore From Backups" > "BlackBerry".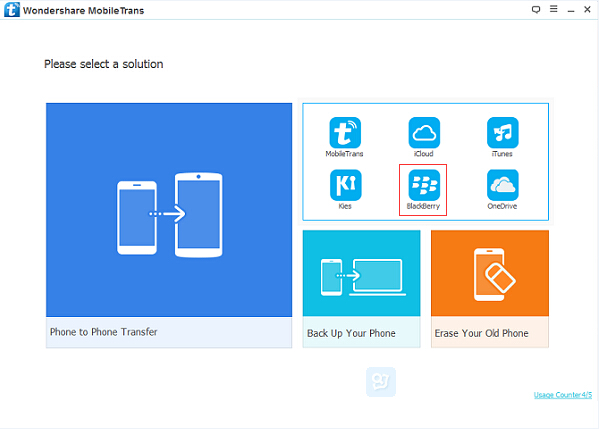 Step 2.Choose BlackBerry backup files that you wanna restore to extract, then click the boxes in front of your selected data and click "Start Copy". It's a piece of cake.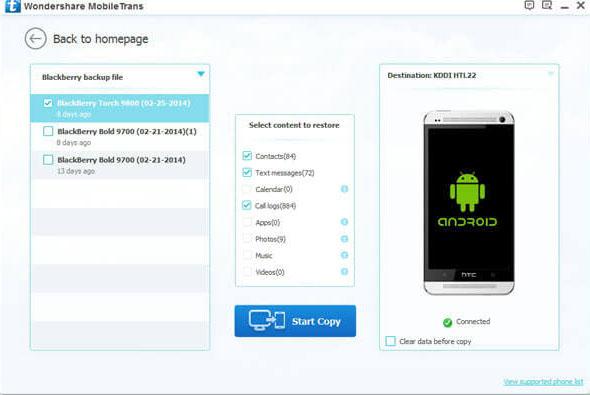 Begin to transfer BlackBerry backup contacts,sms,call logs to Android phone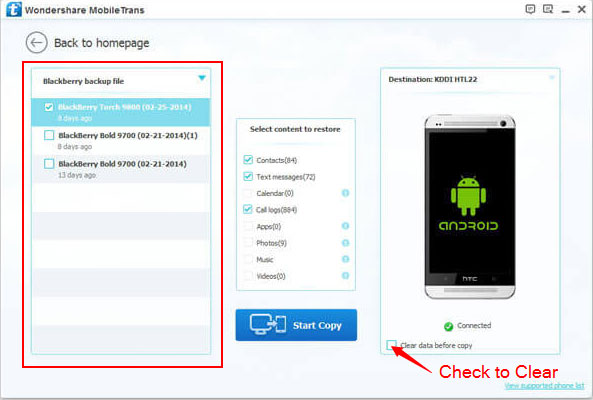 Part 5:Restore iCloud Backup Files to Android

Step 1.If you used iOS device and ever backed up files from it,now you can turn to this way to restore back up files to Android.One of the most common methods is restoring iCloud backup files to Android devices,which is also ubiquity.In the homepage,select "Restore from Backups" option and select "iCloud" ,and you will into the next screen.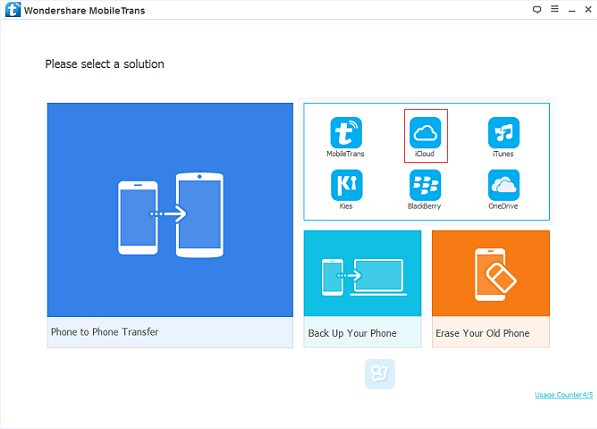 Step 2.Sign in your iCloud account in order to load your iCloud backup files.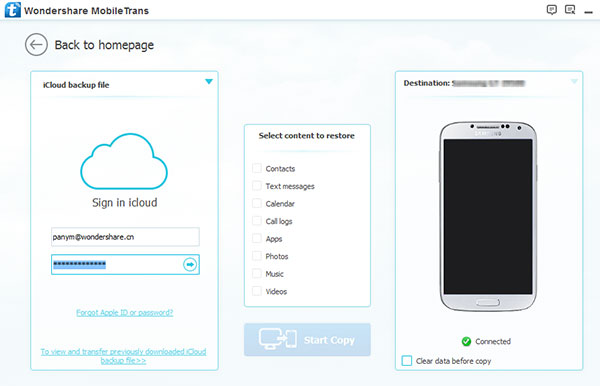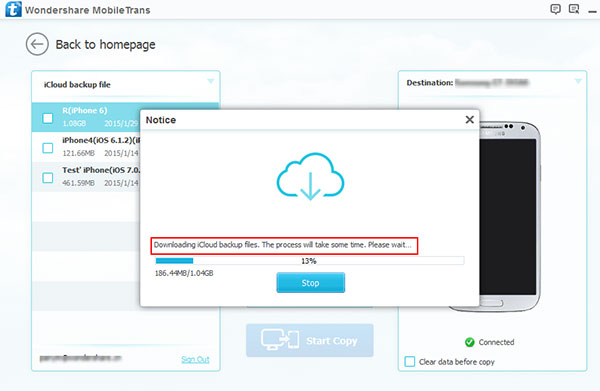 Step 3.Check the data you wanted and click on "Start Copy" to transfer to your Android when your iCloud backup files have been complete download.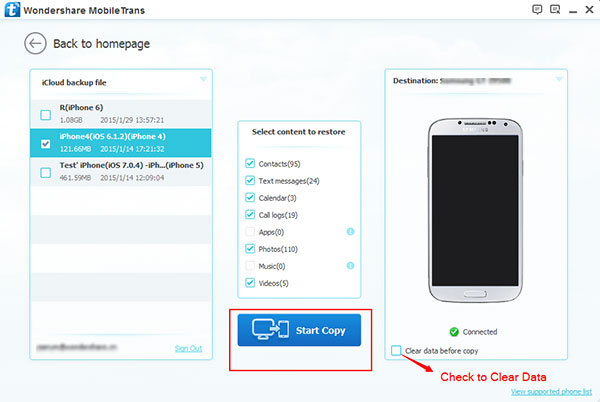 Part 6:Restore iTunes Backup to Android

Step 1.Apart from iCloud,for an iPhone/iPad/iPod user, you can also back up your device with iTunes.If you have iTunes backup files, choose "Restore From Backups" in the main interface and select the "iTunes" item.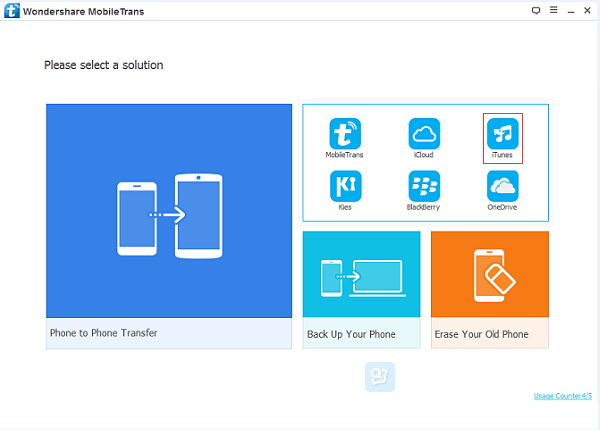 Step 2.Click the item on the left side of the screen to select iTunes backup files to restore, the program will automatically extract all the data transmitted from selected backup files.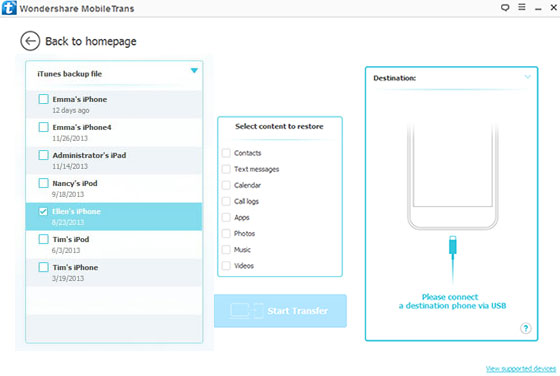 Step 3.Select the files you want to restore and click "Start Copy" to begin the transfer process.Make sure to keep your phone connected through the whole restoring process.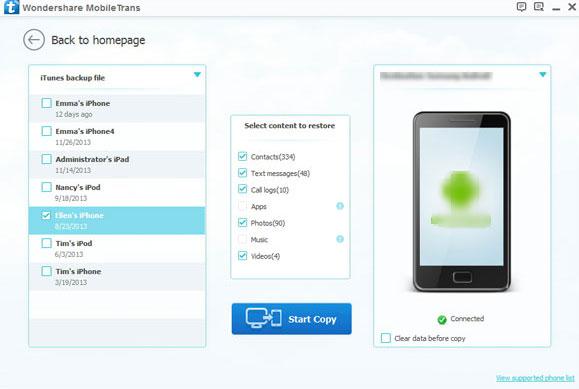 The foregoing tutorial is how to back up and restore files on Android with wonderful Phone Transfer program.What's more, Phone Transfer supports to almost all types of Android devices in the market,insist of Samsung,HTC,Motorola,Lenovo,Huiwei,Xiaomi and so on. You don't need to worry about the compatibility issues of data loss. Download and try the program,you must be surprise for the superiority of Phone Transfer.






Related Articles:
---
How to Transfer Data Between Android, iPhone and Nokia

How to Transfer Contacts from iPhone to Samsung

How to Transfer Music from iTunes to Android

How to Transfer Apps from Android to Android

Samsung Kies:Backup and Restore Samsung Galaxy