Samsung Galaxy S8/S7/S6/Note 5 are the top smartphones in Samsung S and Note series,some people are tired of using the iPhone and want to purchase a new S8 or Note 5.As well all know that the Samsung phones running Android OS,the iPhone base on iOS system,after replace your iPhone with a Samsung phone,it's a hard job to sync contacts from iPhone to Android phone,including email address, home address and some personal infor.

Have bought a new Samsung Galaxy S8/S7 or Note 5 and want to transfer contacts from your old iPhone to Samsung Galaxy,as we all know that the Samsung Smart Switch can help use transfer data & contacts to between two Samsung phones,but it's very complex to switch iPhone contacts to Samsung Galaxy Note/S.However,today we'll teach you how to transfer contacts from iPhone 4/4s/5/5s/6/6s/7 to Samsung Galaxy with 1 click.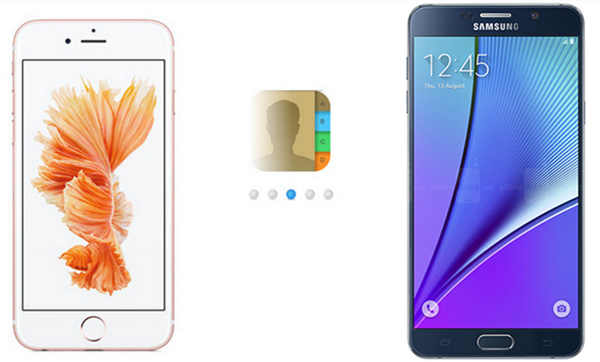 Luckily, iPhone to Samsung Galaxy Transfer Program - iPhone to Android Transfer,which is a specially-designed file transfer tool for transferring everyting between iOS and Android devices, with the help of this iPhone to Android Transfer, you not only can transfer contacts from iPhone to Galaxy Note 5/S8/S7/S6 directly,but also sync text messages videos, music, photos, etc from iPhone to Android phones without data loss.What's more,the Phone Transfer supports transfer data from iOS to Android, Android to Android, Android to iOS, iOS to iOS,including contacts, SMS, videos, photos, music, call log, bokmarks and more.

Let's teach you how to use this iPhone to Android Transfer program to transfer data from old iPhone to the new Samsung Galaxy Note 5,you can use the key features "Back Up Your Phone" and "Restore From Backups" to backup and restore your Samsung Galaxy or iPhone whenever you need.

Way 1: Switch Contacts from iPhone to Galaxy Note 5/S8 via Phone Transfer

Free download the program to switch iPhone contacts to Samsung Galaxy Note or S smartphones in following article.






Step 1 Install and Run Phone to Phone Transfer on Your PC/Mac
Run the Phone Transfer program on your Windows computer or Macbook, then click the key features "Phone to Phone Transfer" and go to next step.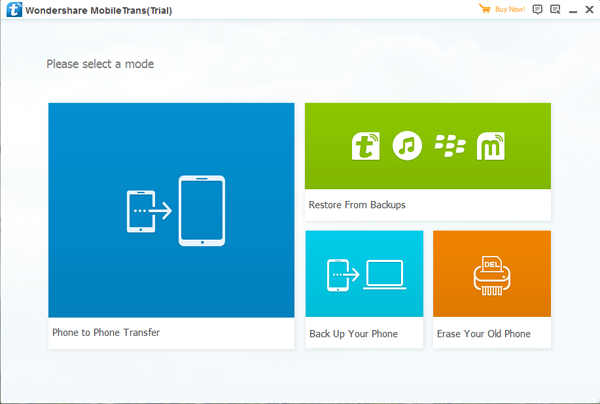 Step 2 Connect iPhone and Galaxy Note/S to the Same Computer via USB cables
Use a Samsung USB cable and Apple cable to connect your iPhone and Note 5 or S8 to the computer, once the two phones detected by the program, both your Samsung phone and iPhone will be shown in the window.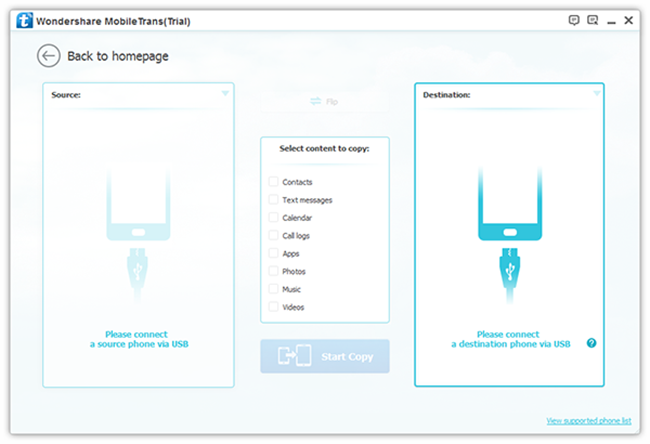 Note: Make sure the iTunes are installed on your computer.There is a "Flip" button on bottom of the program, which allows users to switch data from iPhone to Samsung,Samsung to iPhone in the same steps.

Step 3 Select Contacts to Transfer from iPhone to Galaxy Note/S
Click on the Start button on the main screen to let the software start detecting and scanning both devices. All of the contacts, text messages,photos, videos, call history will be discovered and display the total number beside each item on the center.If you only want to move contacts from iPhone to Note 5,please select the "Contacts" items and go to next.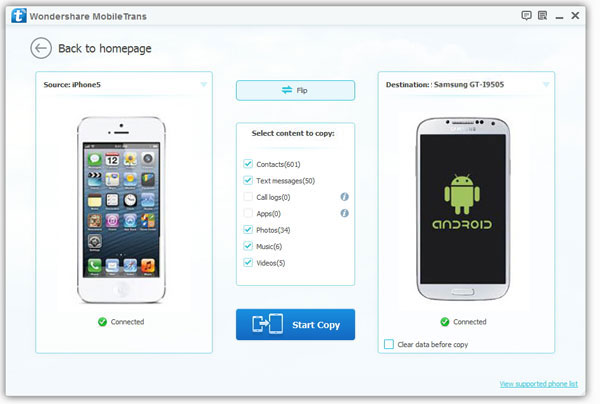 Step 4 Previewing and Transferring Contacts from iPhone to Galaxy Note 5
In this step,just click "Start Copy" button to start move iPhone contacts,phone numbers from iPhone to Note 5 directly. It should be done in a few minutes, depending on how many contacts and data stored on the iPhone. Besides contacts can be transferred to new Samsung Galaxy,but also the text messages/photos/music/videos/call logs is also supported to copied to Samsung phone by the program.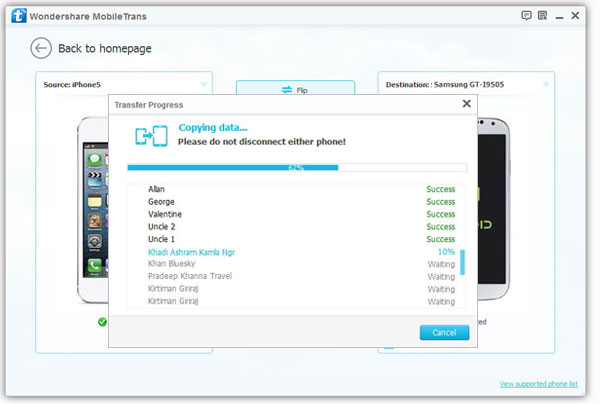 Tips: During the transferring process,please keep conncecting two phones to computer,all the above processes offer authentic routes to transfer the contacts from your iPhone to Note 7,as well as Galaxy S7/S6/S5/Note 5 efficiently.




Free Ways to Transfer iPhone Contacts to Samsung Galaxy
Way 2 : Sync Contacts from iPhone to Galaxy Note 5/S8 via iCloud

Step 1.Switch on iCloud Backup in your iPhone.
Step 2.Now click 'contacts' button on the menu of the main screen of the iCloud.com.
Step 3.Now select ExportVcard option from there to allow storing all the contacts as the .vcf files. Your contacts are now on cloud.
Step 4.You will have to enter your Apple ID and password to access the iCloud. The ID you enter has to be of the iDevice from where the contacts data is to be transferred.
Step 5.Bring your .vcf file to the Samsung Galaxy Note 5 or S8 root folder through the default People App.
Step 6.The contacts would be thus imported. This process however requires the iCloud enablement.

Way 3 : Sync Contacts from iPhone to Galaxy Note 5/S8 via iTunes

Step 1.Connect your iPhone to desktop via USB.
Step 2.Open the iTunes and select your iDevice from there.
Step 3.Navigate to 'info' tab and select 'sync contacts with'. Then select 'Google Contacts'.
You will have to register for a Google account if there is none available with you.
Step 4.Click on the icon 'Apply'. This will allow Google to get synced with the iTunes.
Step 5.Now navigate in your Samsung Galaxy Note 7, to Setting – Accounts.
Step 6.Add the created Goggle Account to your Galaxy Note 7.
Step 7.All your contacts would be synced with your Note 7.

Comparisons:
This article compared 3 methods to see how they performed on different phones, the last two methods are totally different and may be annoying, tedious, and time-consuming. Meanwhile it requires you to take the time to arm yourself with some basic information. Conversely, the method 1 will provide a hassle-free experience when transfer data from Android,iPhone to new Samsung Galaxy phone. Finding out which method is the best iPhone to Android Transfer solution for you to move all data between iOS and Android, here we highly recommend you transfer data between iPhone, Android, Nokia, BlackBerry and Windowns Phone through Method 1.What's more,the Phone Transfer also can help you backup and restore data from iOS,Android,and permanently erasing data from old iOS devices, Android devices before selling it.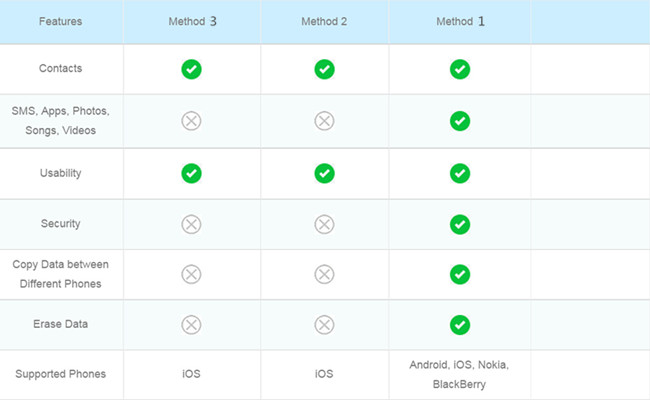 Related Articles:
---
How to Transfer Data from iPhone to PC without using iTunes

How to Delete iPhone Contacts at Once

Backup and Restore Samsung Galaxy Note

How to Backup Contacts from Samsung Galaxy Note to PC

How to Recover Deleted Photos from Samsung Galaxy Note

How to Recover Lost Contacts from iPhone

Transfer Contacts from Samsung Galaxy to Galaxy Note