Do you want to delete personal data and settings on iPhone before selling or giving it out? This article teach you how to delete all iPhone data and erase all settings on iPhone with or without iPhone data eraser tool. If you have sell your iPhone to someone,the personal information in iPhone is very important,you don't want others scan and get the data on your iPhone.So before selling your iPhone, you must erase all data on iPhone,in additional,you must to wipe off settings at times.As we all know,the person information is very important for us,including Apple ID, contacts, sms messages, photos, video,ect. However,we must remove personal information and data on iPhone,even the professional ios data recovery software can not get them back.

Next,we provides three useful ways to delete personal data and setting on iPhone,iPad and iPod:


Option 1: Click "Erase All Content and Settings" Option on iPhone

Here,you can erase the iPhone setting in iPhone default settings without any eraser tool.In this way,it allows you remove useless data and free up more storage space,and your device runs more smoothly,if you want to restore those erase file later by iPhone data recovery,we recommend you use this way.Next,let's teach you how to use iPhone default deleting function to erase all personal data and settings on iPhone only 3 steps.

*Step 1: Go to "Settings" > "General" > "Reset" on your iPhone.

*Step 2: Select "Erase All Content and Settings" from the option list and go on.

*Step 3: Press "Erase iPhone" next to confirm your conduct.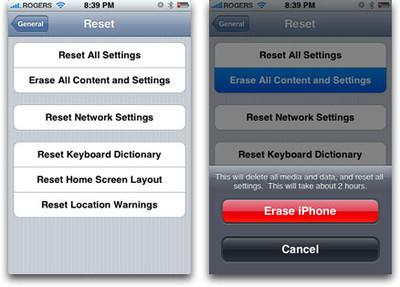 Also, you need to wait for some time until the erasing process ends. Then your device will be cleared up with nothing on it.

Tips: This method above, clear the iPhone's data can be restored. In additional, if you want to permanently delete iPhone data,even professional recovery software can not recover, please follow the tutorial (Way 2) to permanently delete data on iPhone.


Option 2: Permanently Erase All Data and Settings on iPhone via iPhone Data Eraser

If you want to resell or donate your iPhone,pleaser use this way permanently wipe off everything from iPhone.This iPhone Data Eraser supports permanently delete all data from iPhone 7/6s/6/SE/5s/5/5c/4s/4,even no ios data recovery can restore those deleted data,the ios data eraser meets Mil-spec DOD 5220 – 22 M standard for permanent data erase,so that never recover personal data forever.Let's show you the guide to wipe personal data and setting on iPhone without professional skills.






Step 1: Run the iPhone Data Eraser and connect you iPhone to PC

First of all,please free download the ios data eraser,install and run on your computer. Then connect you iPhone to a computer via a USB cable.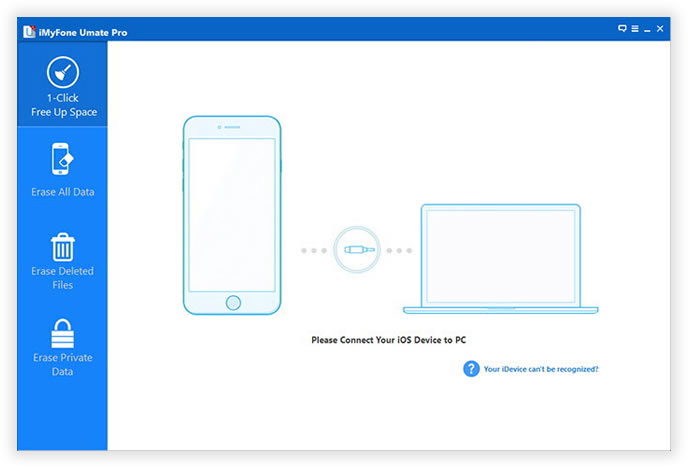 Step 2: Choose the erasing type "Eraser All Data"
You'll see two erasing types to wipe iPhone data in the main interface as below,please choose the first erasing option - "Eraser All Data" (the only available one for the moment), and move on.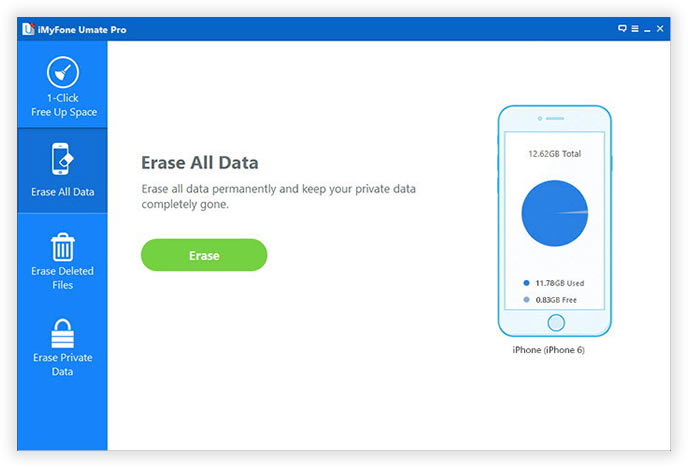 Step 3: Select a security levels and typed the word "delete"
The ios data eraser provides you three security levels to choose. From low to high, security standard rises. Select the one you prefer and click on "Start".
The user then needs to make sure that the word "delete" is typed to proceed further in this regard: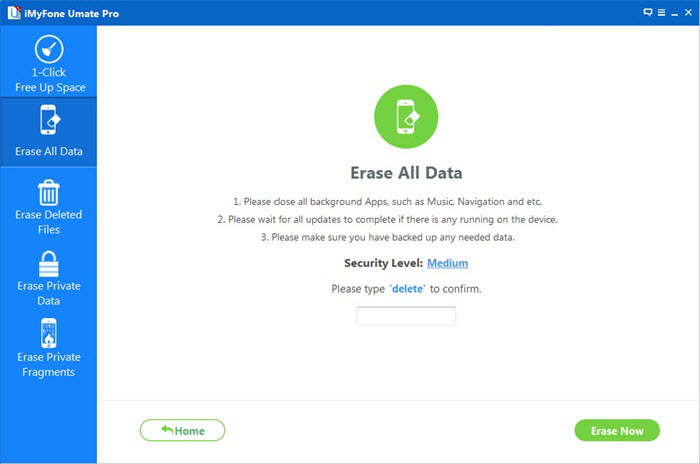 If you've choose "ERASE DELETED FILES", then the iOS Data Eraser tool will scan your device, displaying all the files you've deleted.

Afer scanning deleted files, you can select unwanted data to erase.

Step 4: Start to permanently erase all data and setting on iPhone
Type in the word appears in the input box so the program gets your confirmation to start data erasing.It will take you some time according to the whole volume of data. Wait patiently until it completes.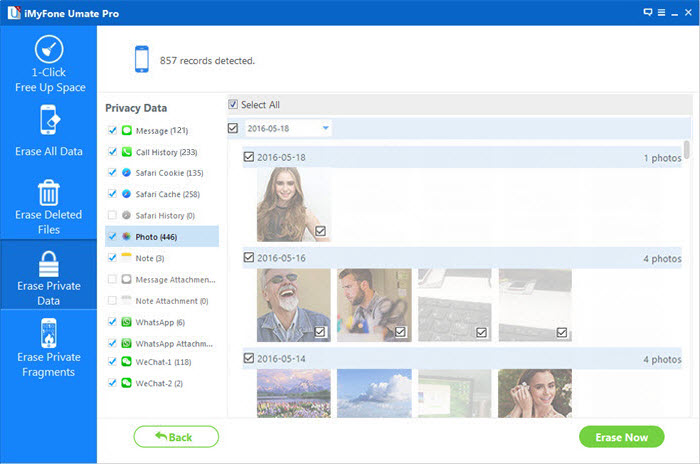 After finish erasing data on iPhone, all data on your iPone was clear up,and the iPhone setting as a new phone on the same,you can use your "new" iPhone, resell it on eBay, or give it to your friend without worrying about personal data leakage.





Tips: Both of these methods can help you to remove the iPhone's data and settings. As wee we all know that, Apple's default erasing function actually doesn't remove all your data but encrypt for you, some iPhone data recovery can restore them easily.If you want to completely and permanently delete the iPhone data, and even professional ios data recovery software can not recover,we recommend you the second way to erase all your iPhone data with a professional iPhone data eraser.Therefore, you can safely sell or give away your iPhone.


Option 3: Permanently Delete All Data from Your iPhone via iOS Full Data Eraser

General iPhone/iPad resetting or factory reset is not enough. To wipe all iPhone data completely and permanently, you need to use a professional third-party iOS Data Eraser tool,in this part we will recommend you another profession iOS Data Eraser program.

iOS Full Data Eraser is one of features in Dr.Fone iOS Data Recovery,you not only can use this program clear out your personal data and setting on iPhone, iPad,making your ios device as new one;but also recovering deleted contacts, SMS, photos, videos, music, notes, call logs,ect from iPhone, iPad and iPod directly.If you want to erase all data from iPhone permanently,please click "More Tool" >> "iOS Full Data Eraser" in the program,then connect your iPhone to wipe bank information, ID numbers, sensitive conversations, and other private information before you sell or give it away,even nobody can recover and view your wiped private data once erase by this program.






Once running the iOS Full Data Eraser on your computer, choose "More Tools" on the left side and you'll see all features inside as follows,then click "iOS Full Data Eraser".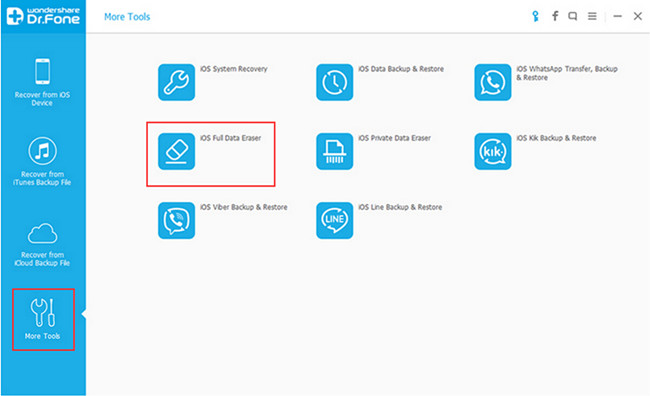 Step 1. Use a USB cable to Connect your iPhone to Computer
After launching the iOS Full Data Eraser program, connect your iPhone or iPad to the computer. Then choose "iOS Full Data Eraser" from tools in the window above, and you will see the program appearing as follows.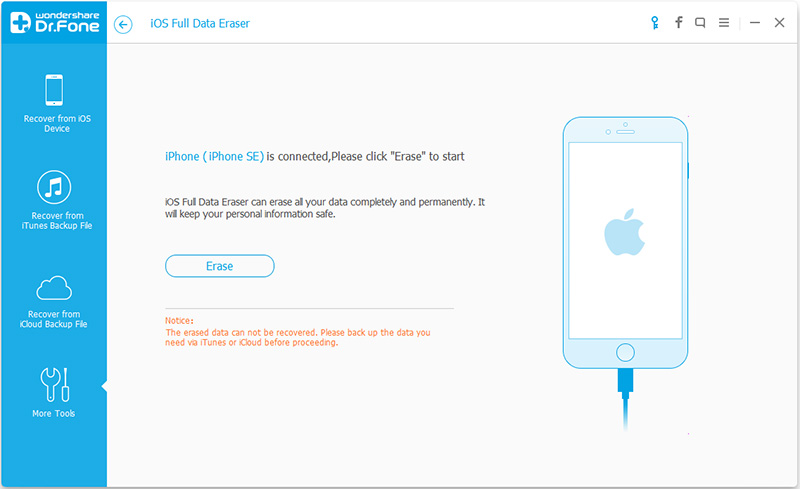 Step 2. Start Scanning and Erasing Data from your iPhone Permanently
When your iPhone or iPad is detected connected successfully,then click the "Erase" button and type the word "delete" to confirm the full data erasure,and begin deleting data on your iPhone permanently.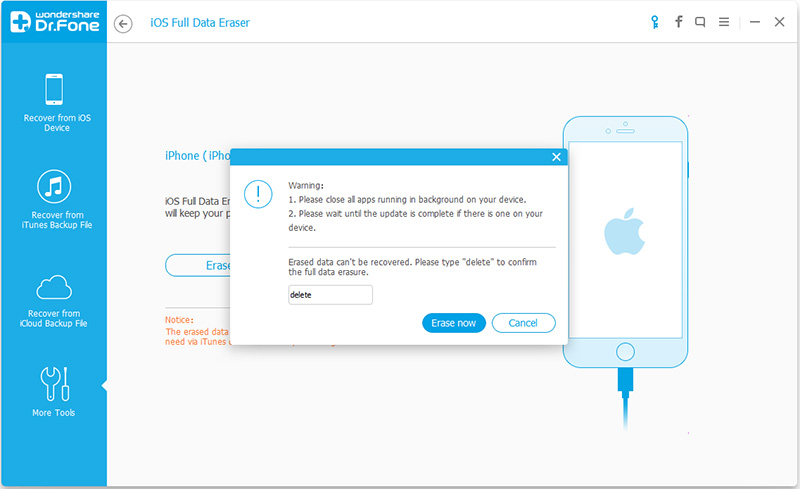 Tips:Since the erased data can't be recovered, you need to be careful and enter "delete" to confirm your operation when you are ready.However,before erase all iPhone data,we recommend that you should
backup useful data from iPhone to computer
.

Step 3. Complete Erase iPhone Data Permanently
Once the erasing process begins, please keep connecting your iPhone devices to computer during the whole process and wait for the end of the process complete.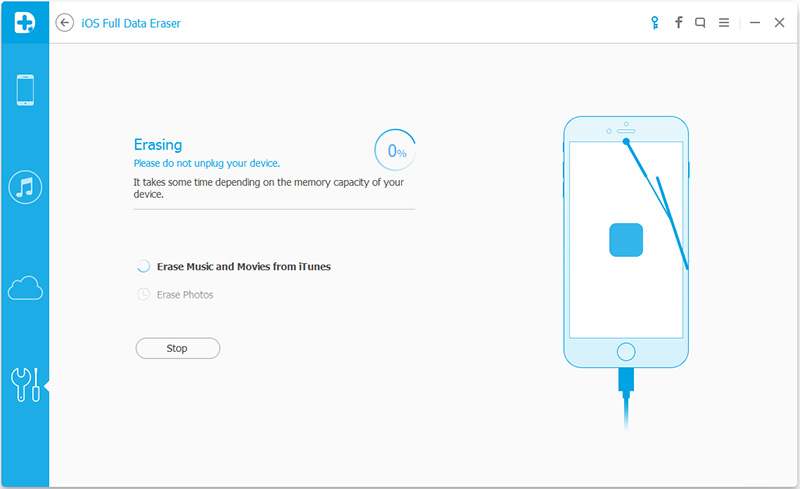 When finished deleting data on your iPhone permanently, you'll see a interface disappears below.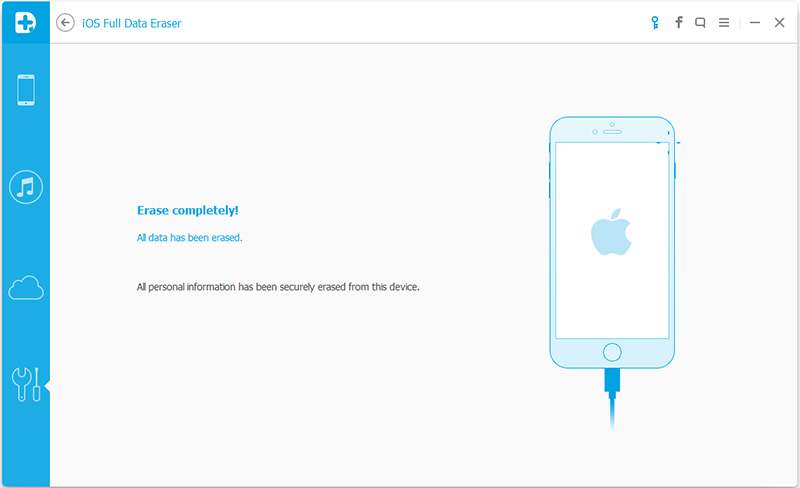 Now, all data stored on your iPhone/iPad is fully wiped and turns into a new device with no content, and you can selling the old devices as new.






Related Use Guides You May Want to Know:
---
How to delete text messages on iPhone permanently

How to erase all data from iPhone permanently

How to delete iPhone photos permanently