Prepare for resell old iPad, then buy a new next-generation iPad? Such as iPad Air. If you want to sell a good price, you can make your old iPad as a new state. Another is a security problem, I suggest you permanently delete data from the iPad, and even after you resale the old iPad, make sure no one can access your personal data from iPad.So you must erase all data from iPad before you selling it.

To permanently wipe your private data from iPad before selling,you can't depend on restoring the device to factory setting to wipe the data,because some ios data recovery can recover those lost data after restore the iPad to factory setting.However, to delete data from iPad permanently, you must use professional iPad Data Eraser and iPad Data Eraser for Mac,the ios data eraser supports erase all data on iPad, like photos, videos, account info, emails, bookmarks, passwords, contacts, text messags,etc. from iPad. After erasing data with this ios eraser tool, you can not get all data back with any recovery tool.This ios data eraser supports all kinds of ios devices, including iPad Pro, iPad Air, iPad mini, iPad 4/3/2/1 and iPhone/iPod.

Free download the ios data eraser and wipe everything on iPad easily.




How to Wipe All Data from iPad Permanently before Selling

Step 1. Run the data eraser tool and Connect iPad to Computer
Please free download the ios data eraser and then connect your iPad to the computer via a USB cable,then you will see the software main interface as below,your iPad
will be detected by the data eraser program automatically.

The program provides you 4 options to erase data on iPad and optimizer your iPad device,please choose the optimizer what you want to do.

To delete all private data on your iPad,please select the "Erase Private Data" options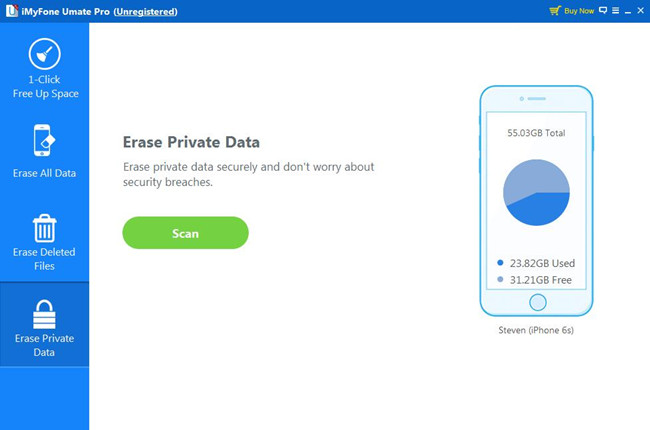 If you want to optmizer your slow iPad and mak your old iPad running more faster,please select the "iOS Optimizer" options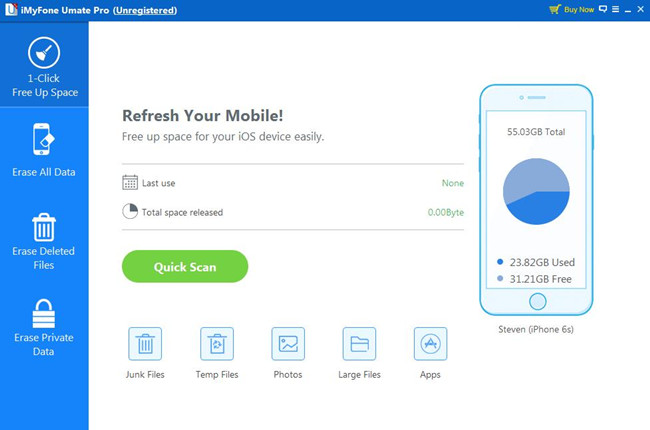 This post maily teach you how to erase deleted files and existing contents on iPad permanently before selling it,here you can select the options - "Erase Deleted Files"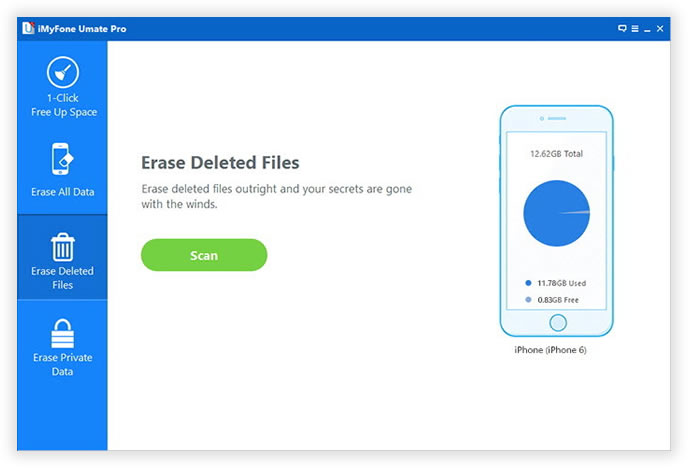 Step 2. Choose Lever of Data Erasing as Needed
The program offers three different levels of data erasing for your choice. The first level will erase your iPad data quickly to save your time. The second level will
leave no traceability of data erasure and use random data to overwrite all existing and deleted data on your iPad. The third level is the most secure but time-
consuming option which will write over the data 3 times. You can directly use the default second level.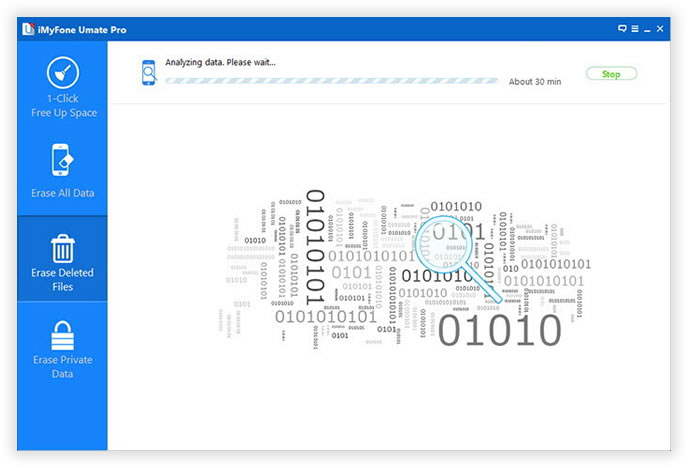 If you've choose "ERASE DELETED FILES", then the iPhone/iPad/iPod Data Eraser tool will scan your device, displaying all the files you've deleted.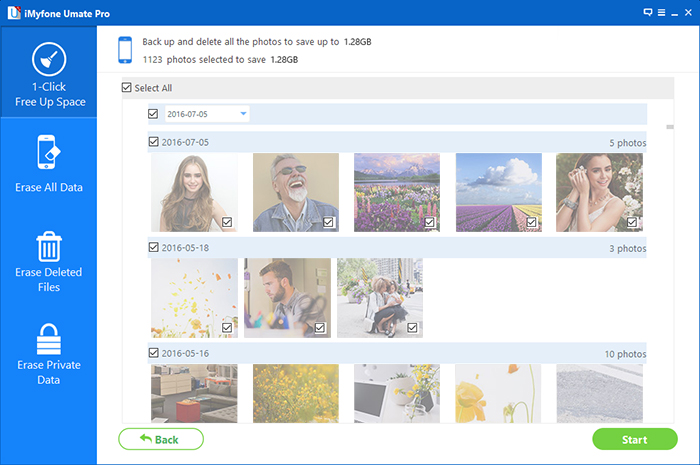 Afer scanning deleted files, you can select unwanted data to erase.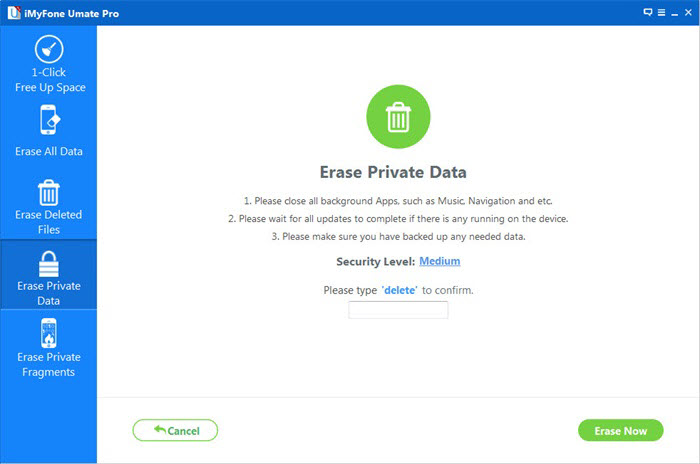 Step 3. Start to Erase All iPad Data
After above settings, what you need to do is just clicking the button of "erase all data and settings" and then the program will delete all data from your iPad
immediately. After a few seconds, all data will be erased permanently from your iPad.

Complete erasing iPad data: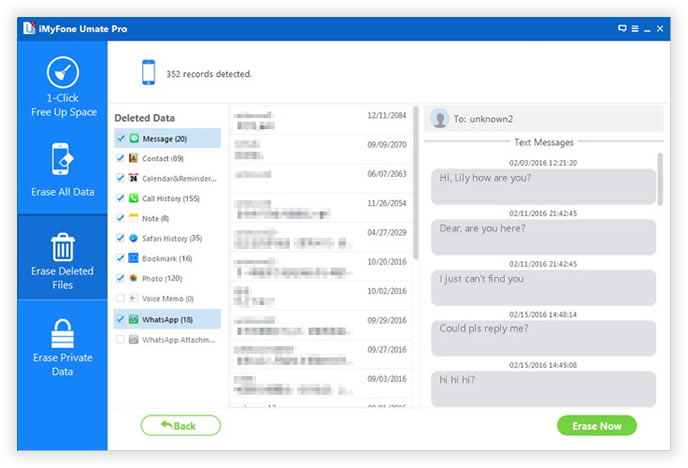 After erasing data with this program, you will get a totally "clean slate" iPad with no data on it at all. By taking the time to wipe data from your device before selling it, you will not only protect your private data from revealing, but also provide better experience for the next owner. Hope this article helps!

Free download the free trial version of the iPad Data Eraser:





What's mroe about iPad Data Eraser:
---
The iOS Data Eraser not only can help you erase all data from iPad permanently,but also supports erase all data on iPhone and iPod,after you delete data from ios devices,you can transfer the useful data that you've backed up previously to your iPhone/iPad/iPod with iOS Data Manager. Here iOS Data Eraser not only can delete photos from iPad, it can wipe contacts, messages, call history, calendar, email, note, reminder and apps as well.

Read More Articles You May Want to Know:
---
How to Delete Photos from iPad Permanently

How to Wipe Junk Files from iPhone iPad

How to Repair Operating System for iPhone iPad iPod

How to Speed Up Slow iPad, iPhone Easily