What You Need to Do Before Selling Your old iPhone

What you need to do before selling your old iPhone?If you want to sell your old iPhone for the new one,please make sure you've deleted all important data from your iPhone permanently. Don't leave anything behind!

1. Back up your iPhone data to computer.

2. Remove photos from Camera Roll. Connect the device to your computer and open Image Capture or iPhoto. Select all photos and then click Import All. In iPhoto, choose to "delete photos from your iPhone" after importing. In Image Capture, if the "Delete Items After Downloading" option no longer appears, try this: turn off "Photos" in iCloud on your Mac and iPhone, then restart both devices, and you should see the delete button.

3. Turn iMessage off. Open the Settings app > Messages > iMessage > switch to off.

4. Turn FaceTime off. Open the Settings app > FaceTime > switch to off.

5. Disable your iCloud account. Open the Settings app > iCloud > tap "Sign Out."

6. Log out of Apple ID. Open the Settings app >App and iTunes Stores > tap Apple ID and sign out.

7. Restore to factory settings. Open the Settings app > General > Reset > Erase All Content and Settings.

8. Unregister your device at supportprofile.apple.com.

9. Call your carrier and ask them to disassociate the device from your account.


What You Need to Delete Before Selling Your iPhone?

Those important data saved on our iPhone are very important, such as text messages, contacts, personal photos, videos, Apple ID, social networking, payment and business. So before selling the old iPhone 4/4s/5/5s for a new iPhone 6/6s(plus) or iPhone 7, the first thing we need to consider seriously is how to prevent our personal information being leaked after selling the old device.Then we must to permanently delete all data on iPhone before selling or give it away for our friends relatives.
Learn the article: What to do before selling or giving away your old iPhone
2 Methods to Delete Everything Off of an iPhone
Method 1: Factory Reset an iPhone(100% Recovery Rate)

Some iPhone users may thing when we erase iPhone data by restore factory setting is very safe,but some data recovery in market can restore them easily-like Dr.Fone iPhone data recovery software.

This is the simplest and fastest way to remove content and settings on your iPhone and this method has been widely adopted for general users. This is fairly enough for users who haven't leave any important data on the iPhone. Below are the steps on how to achieve that:

Step 1: Tap on "Settings" icon on iPhone homescreen.

Step 2: Scroll down from the list and choose "General" option and select the "Reset" icon

Step 3: Select Reset at the bottom of the list and choose "Erase All Content and Settings".

Step 4. Then Select "Erase iPhone" items options to erase all of your iPhone contents and settings.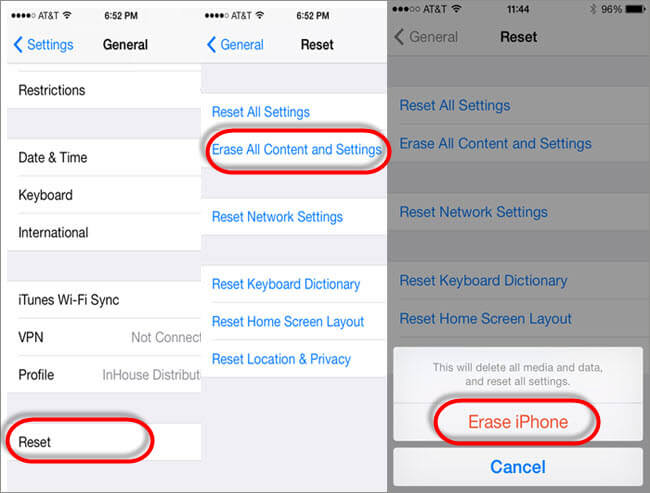 Disadvantage : However, this method is not that secure in terms of high standards as the data can be recovered by utilizing this factory reset. If you really cared about your person information from being leaked, you should make sure that there is no chance to restore such content when you selling or handling the device to someone else. It is highly recommend to use the following method I am gonna to mention in the next section, as the data will be deleted permanently even the military forces can't get them back.

However,how to erase data from iPhone permanently? Even no data recovery program can restore them back! Let's show you another way to delete everything on iPhone permanently,even professional data recovery can get those erased data back.

Method 2: Permanently Erase Everything from iPhone before Selling

Maybe most people still don't know that actual contents of file are not really deleted when performing simple deletion operation on your iPhone or other devices. But they are just marked for deletion and not shown in the file system of your iOS device. The actual data are still stored on your iPhone. For iOS system, the only way to completely erase all data on iPhone, iPad before selling.

If you want to completely delete data on your iPhone without restored,the iPhone/iPad/iPod Data Eraser can help you 100% erase contacts/sms/photos/notes/videos/calendar/bookmarks/Apple ID,ect from iPhone, iPad and iPod permanently,and no any data recovery software can recover back the wiped files.It provides four erasing options to ensure all deleted data were overwritten and erased without the possibility of recovery by any practical software or hardware methods. In this post, we'll show you easy steps to delete everything from iPhone before selling.







iPhone iPad Data Eraser

- Wipe everything on your iPhone, iPad permanently without restore


Want to sell your old iPhone, iPad? This iOS Data Eraser tool can help you erase everything on ios devices permanently,even no data recovery software can get them back,it supports delete contacts,text messages, Apple ID, photos, videos, call history,ect.



Step 1:Run the iPhone Data Eraser on your PC/Mac

Download the .exe file from below download link and double-click the file to begin installation process. There is a built-in wizard guiding you through the entire process. After that, the software will be opened automatically and a shortcut will display on computer desktop.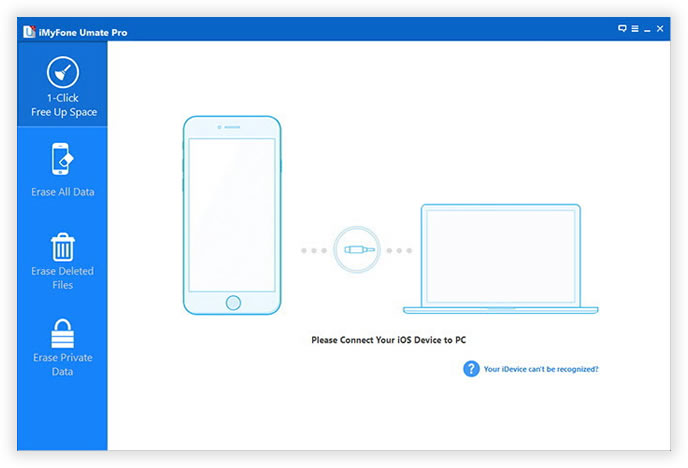 Step 2:Connect iPhone to a computer and Select Right Earsing Option

Plug the iPhone to computer via USB cable. The program will detect the device once it was well connected. Then you can proceed to the next step. However, if the program can't detect the device, please make sure iPhone USB driver and iTunes are installed properly on the computer.

Note: The program offers 4 erasing option for your different demands: "EXPRESS CLEANUP", "ERASE PRIVATE Data", "ERASE DELETED FILES" and "ERASE ALL DATA".

You can select the appropriate option and give it a try. As we want to erase everything stored on the iPhone, so the first method is preferred in this case.

Select "Erase Deleted Files" from the sidebar, which leads to the next step.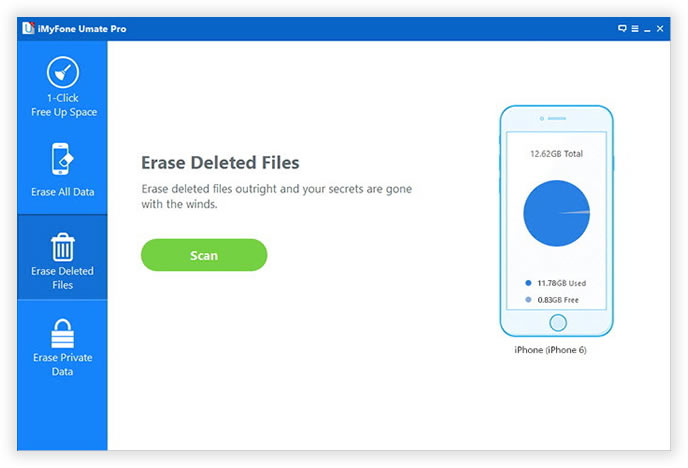 Step 3:Start Analyzing and Scanning the Data on Your iPhone.

In this step, it will automatically analyze and scan all your deleted files in your iPhone device; generally it takes few minutes to complete the process depending on the file. After scanning – select the deleted data to view detailed information on the file.

Scanning all already deleted and existing text messages, contacts, notes, call history,ect on your iPhone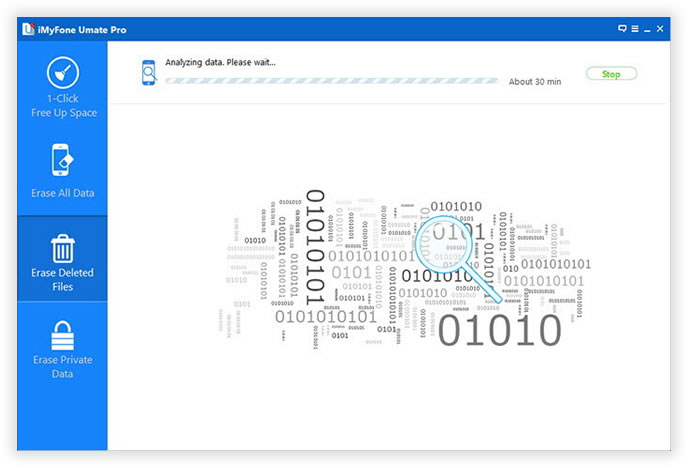 Step 4:Privew and Select the Data You Want to Erase

After scanning, all deleted data will be scanned out and presented as details, by default, all files will be selected. Unselect the files you wish to keep.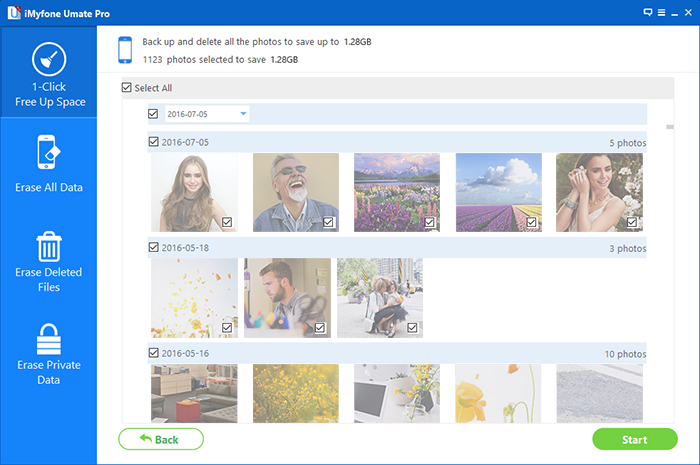 Step 5 Start Erasing Data on iPhone

Input 'delete ' and click Start Button to confirm that you are going to erase all the data on the iPhone. Then the program starts erasing apps, music, videos, photo, contacts, text messages and other files stored on the iPhone device. It only takes a few minutes to complete the task.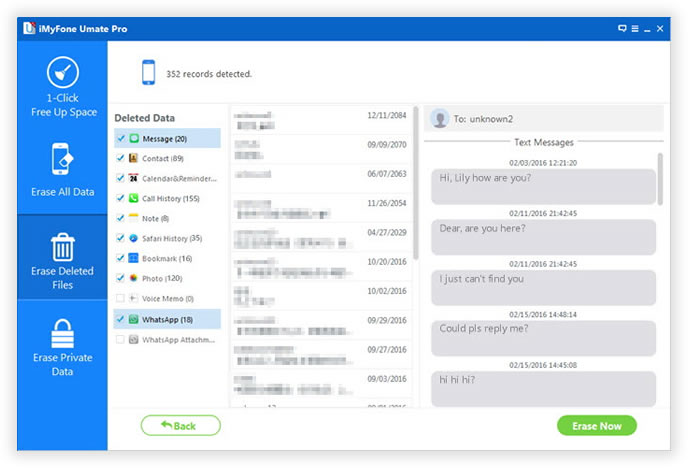 Free download the iPhone Data Eraser and have a try!





It will ask you for confirmation before it starts erasing so make sure you are certain you want to continue as this is your last chance to prevent data from being accidentally erased. You should be no longer worries about your privacy being leaked by using the fancy program. Let's being said, even the most sophisticated data recovery software isn't able to get any information from the given device. It's definitely worth the money you spent on it. And there is no additional fee if you use the program on multiple devices in future.

Tips: When you iPhone/iPad devices run slow,this ios data eraser also allows you speed up and free up space on your iPhone/iPad device,you can easily cleaning those useless data.That,this data eraser tool not only a ios wiper tool,but also a system cleaning and optimization tool to speed up and free up space on your ios device.

Notes: Please remember to back up your important data,because your never get them wiped data back once erase your iPhone data with this iPhone data eraser tool.
Read this use guide:

how to backup iPhone data to computer

.



Read More Related Use Guide About iOS Data Eraser:
---