Summary:It is necessary to permanently erase data (text messages, contacts, photos, videos) from iPhone 4/4s/5s/5/6/6s before selling or giving away your iPhone,simple deletion method or reset your iPhone to factory settings can't delete files permanently,because some data recovery can recover them back easily.To permanently erase all data from iPhone before selling and purchased a newer iPhone 7/7 plus, Samsung Galaxy S7/S7 Edge,you must to use a third-party iOS Data Eraser tool to wipe them permanently.

Many people have bought the latest version iPhone 7 or iPhone 7 plus, because it's high configuration and the new design so many people want to sell their old iPhone, and buy a new iPhone 6s/6.But you need to permanently erase content from iPhone before you resell your old iPhone,because there are still a lot of data and personal information on your iPhone, including e-mails, contacts, music, photos, videos, apps, account info, passwords and other personal information stored on iPhone.However, if you think this is the best way to permanently erase data by using the default erase setting built in iOS, or restore factory setting to erase iPhone information, this is wrong, you can recover those erased data back with a professional iOS data recovery,like iOS Data Recovery.
Erase Data from iPhone 6/5S/5/4S without Restoring

To delete, erase, wipe personal data permanently from your iPhone, you must to use a professional iPhone Data Eraser,it can help you erase iPhone data and personal information permanently and prevent identity theft & thorough privacy protection.


iPhone Data Eraser and iPhone Data Eraser for Mac,both are supports to erase all data from iPhone 6s, iPhone 6, iPhone 5s/5, iPhone 4s and iPhone 4 permanently, including contacts, messages, call history, apps, system setting, photo, video, keyboard cache, safari bookmark. However, this iPhone Data Eraser is the most useful iPhone wipe tool that every ios users must own one.What's more, the ios data eraser software works well with iPad and iPod(iPod Touch), as well, if you use iPad and iPod,you can use this ios data eraser software remove data from iPad& iPod easily.

Free download the iPhone data eraser tool,and wipe everything on iPhone






Let's learn the use guide about how to delete data on iPhone permanently
Method 1: Permanently Erase Deleted and Existing Files on iPhone via iPhone Data Eraser
Step 1. Run the iPhone Data Eraser and connect your iPhone to the computer
After the installation, run iPhone Data Eraser on your computer. Please connect your iPhone with a USB cable to the computer. When the program recognizes your device, you'll see the software main interface as follows.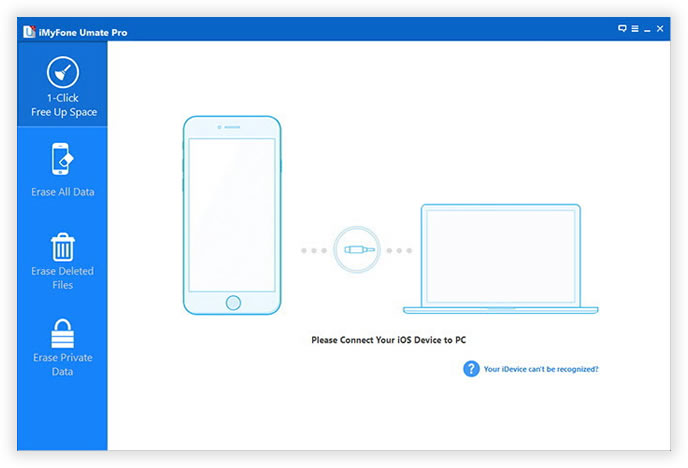 Note: Backup the important data if you don't want to delete them

Step 2. Choose Erase deleted files on device and click on it

Please connect your iPhone to computer via USB cable. The program will detect the device once it was well connected. Then you can proceed to the next step. However, if the data eraser tool can't detect the device, please make sure iPhone USB driver and iTunes are installed properly on the computer.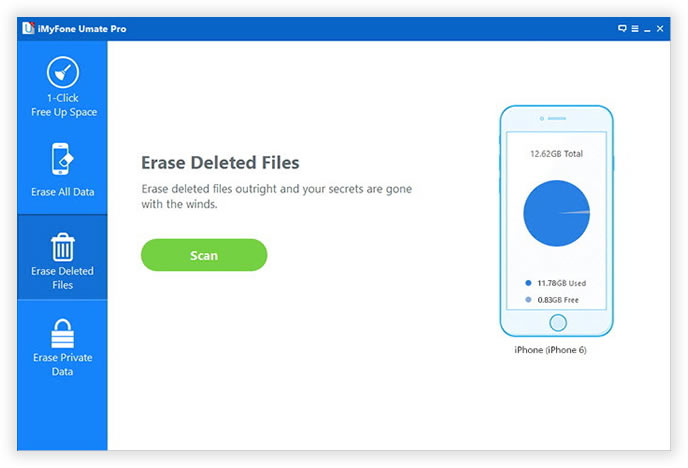 Note: The program offers 4 erasing option for your different demands: "EXPRESS CLEANUP", "ERASE PRIVATE Data", "ERASE DELETED FILES" and "ERASE ALL DATA". You can select the appropriate option and give it a try. As we want to erase everything stored on the iPhone, so the first method is preferred in this case. Select Erase All Data from the sidebar, which leads to the next step.

If you've choose "ERASE DELETED FILES", then the iOS Data Eraser tool will scan your device, displaying all the files you've deleted.

Step 3. Start to erase all data on your device now

There are three security levels to erase all data on your iPhone. You can choose any of them to your requirement. Higher levels will ask for more time. Here we'll choose the default one - the medium one which will overwrite your iPhone with junk files ensure that the files can not be recoverable and no one knows that you've deleted all data on your iPhone. What they can recover from your iPhone are all junk files. And then click "Erase Now".

Wipe deleted Photos, Videos and other files on iPhone without restore: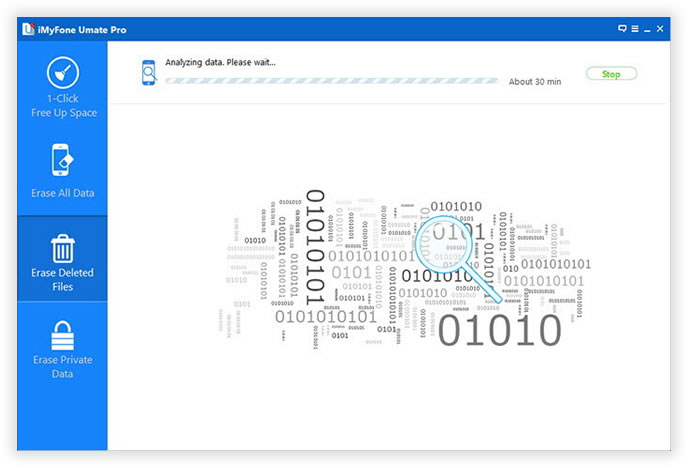 Erase All Text Messages, Contacts, Notes, Messages Attachments, Call history,ect on iPhone permanently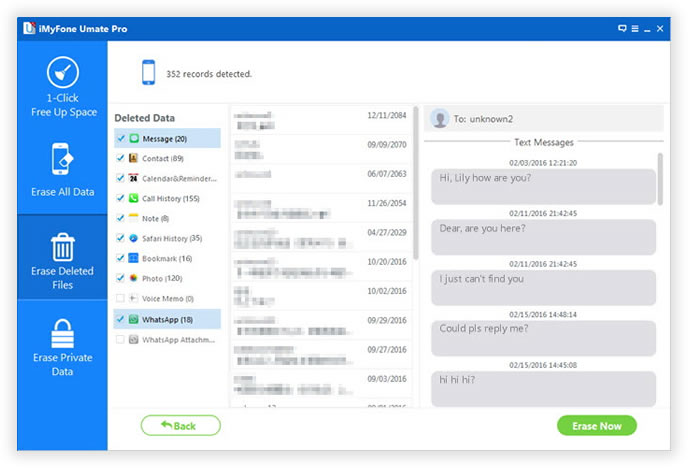 Note: The low level - the software will erase and overwrite all your data with zeros to ensure that the files are not recoverable. When recovering data from your iPhone, you can only find zeros from it.
The high level - it meets the DOD5220 – 22M standard. When you choose this level, the data on your iPhone will be erased and overwritten by three times. You can get a
better insurance.

Step 4. Click "Done" and the wiping completed

After a few minutes, all the data will be wiped permanently. You can get your iPhone as a new one. No one can recover data from it, regardless of using any data recovery software.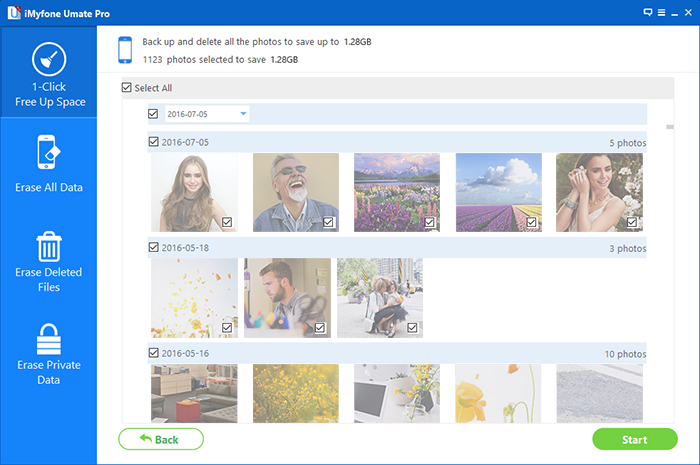 Note: Make a list of all your accounts like iCloud, Dropbox. Pandora,etc. Stop them all from linking to your iPhone. Then take the SIM card out of your iPhone and get it ready for selling on eBay or other sale places.





Now you can freely trade the iPhone after finishing these easy steps. Don't worry about personal information leaks.


Delete Everything from iPhone and Android Phone Before Selling

The seconed recommend Data Eraser is an 2-in-1 iOS Data Eraser and Android Data Eraser tool for users completely erase personal data and deleted data from iPhone 4/4s/5/5s/6/SE and Android Samsung, HTC, Sony, Motorola,ect.You can use this Data Eraser software to wipe all files from your iPhone, Android before selling them,and protect all your personal information when selling, donating or recycling your old iPhone.It supports the latest iOS 9.3.5, iOS 10 beta with iPhone 6s, iPhone 6s Plus, Android 6.0.

Free download the Data Eraser to wipe iPhone data without restored: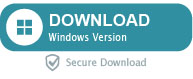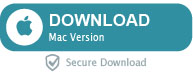 Key Features of This Data Eraser:



Wipe junk files and boost the speed of your iPhone,making your device will perform at optimal speeds.


Erase everything from iPhone without restored


3 different erase mode. This mean that you can choose which data to erase. You can choose to delete everything, or a particular category, say messages or videos.


Permanently wipe all contacts,messages from your iPhone and protecting your personal privacy.


Wipe all the deleted files from iPhone, iPad and Android permanently by "Erase Deleted Files" features.


Free up more space for your iPhone, Android phone storage. With photo compressor mode, you can compress photos to create more storage space. Also, clean up all junk files and unwanted files creates more storage space.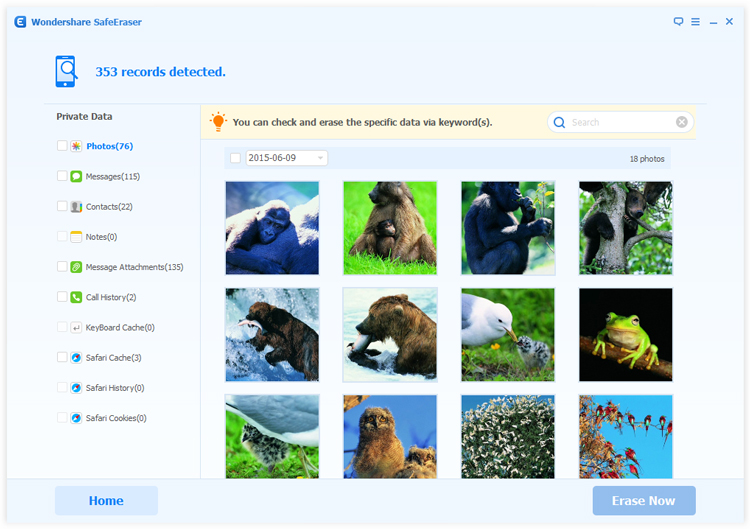 Method 2: Permanently Erase Private Data from iPhone via iOS Private Data Eraser

iOS Private Data Eraser is one of feature of Dr.Fone iOS Data Recovery,which can help you wipe private information from iPhone, iPad and iPod permanently,it allows users erase pictures, text messages/iMessages and attachments, contacts, phone numbers, call logs, notes, calendars, reminders and Safari bookmarks from iPhone 6S/6/SE/5S/5/5C/4S/4 without restored,the iPhone Data Eraser is a simple, fast, and effective safe eraser tool for ios users delete all private files from iOS devices,even nobody recover and view your erased private data after selling or giving away your iPhone, iPad, or iPod.What's more,the program also can hep user backup and restore iPhone data and recover lost/deleted data from iPhone,iPad and iPod in 3 recovery modes: directly scan and recover from iOS devices; restore data from iTunes backup files and restore ios data from iCloud backups.

Free download the all-in-one iOS Private Data Eraser & iOS Data Backup/Restore & iOS Data Recovery software:






How to Erase Contacts,SMS,Photos,Notes and other Private Data from iPhone

After running the program on your Windows computer for Mac,you can see the main interface as below, then click "More Tools" >> "iOS Private Data Eraser" option.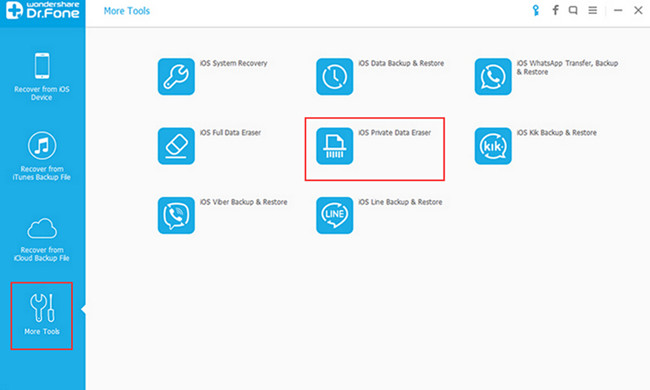 Step 1. Connect your iPhone to Computer via USB cable
First of all,please use a USB cable to connect your iPhone to the computer. Then run the program and choose "iOS Private Data Eraser" from tools in the window above.When your iPhone device is successfully detected by the program, it will be displayed as follows.




Step 2. Start Scanning your iPhone for all Private Data
Then click the "Start Scan" button to let the program scan the private data from iPhone first,you can see the scanning process interface as below.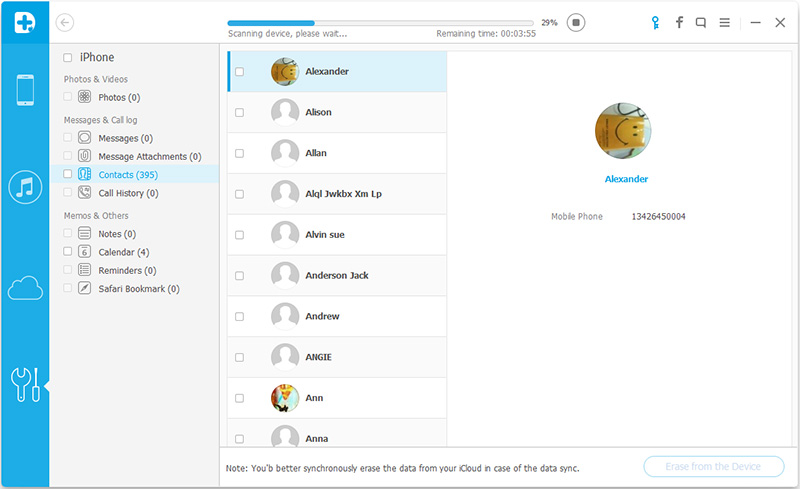 Note: During the scanning process,It will cost you some time.Please don't disconnect your iPhone with computer,just wait until you can see all the found private data in the scan result.

Step 3. Confirm Wiping Your Personal Data from Your iPhone Device
When the scanning process complete,you can preview all the scanned private data in the program interface, including SMS, contacts, pictures, call logs, WhatsApp messages and more. Select what file type you want to delete, and then click on the "Erase from the Device" button to go to next,it will pop up a new interface to confirm it,please type the word "delete" to confirm erase your iPhone private data permanently.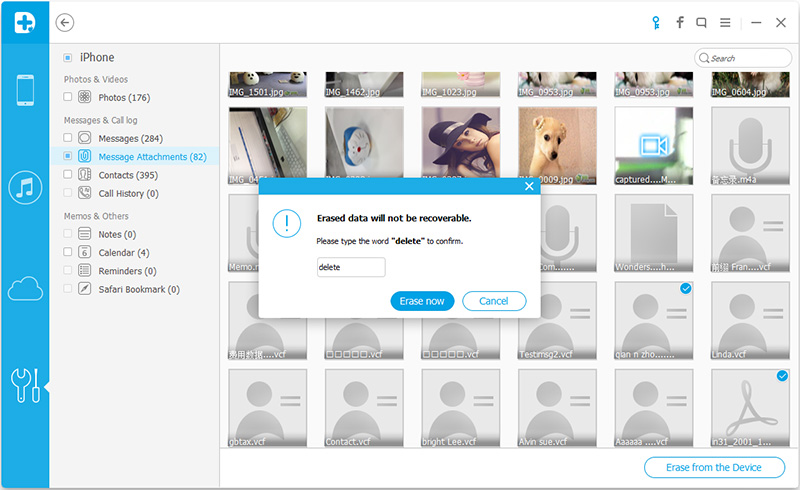 Note:Since the erased data can't be restored, you need to confirm your operation in case you erased wrong data. Just click "Erase now" to confirm it.So we recommend you backup iPhone data before wiping your iPhone data.

Step 4. Start Deleting Private Data on iPhone without Restored
Begin erasing photo, contacts, SMS and other private files stored on your iPhone device. It only takes a few minutes to complete the task, please wait patiently for its end.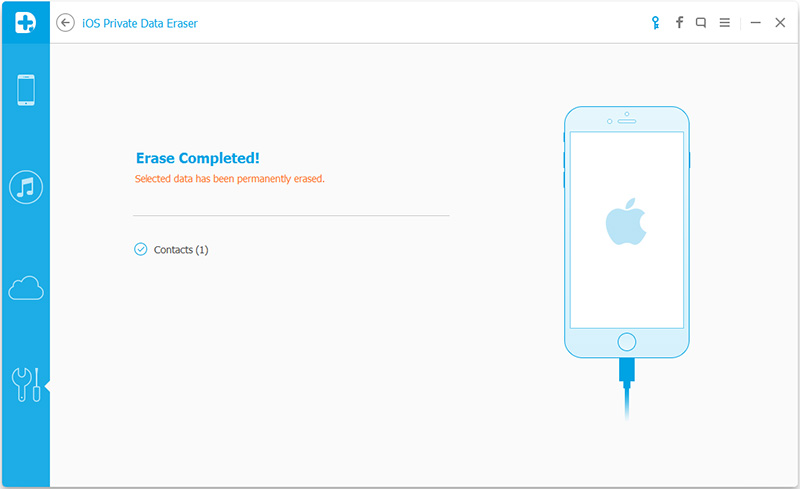 Once the process is complete, you will see an "Erase Completed" message on the window of the program.

When the erasing process is complete , the software will pop up a "Erase Completed" messages prompts you that the wiping process is completed,at this time you allowed disconnect the iPhone device and computer.






What's More about iPhone Data Eraser:
---
iPhone Data Eraser not only erase iPhone data permanently,but also can help ios users wipes all personal data and important data from iPad and iPod forever. The ios data eraser is very easily to use,it provides 3 different modes to erase data safely from your iDevice and resetting system setting with just one click.Now you can free download and try to wipe personal data permanently from your iPhone, iPad and iPod Touch only four steps.

Releted Use Guide About iOS Data Eraser:
---
How to permanently delete photos from iPhone

How to delete personal data and settings on iPhone

How to erase deleted text messages on iPhone permanently

How to delete iPhone contacts without restore