Are you think to delete SMS or iMessages directly from iPhone, this information will never appear yet? How ignorant idea it is! There still have some programe on your iPhone that always make some of you already deleted data appear again at your iPhone, for example, you can recover you deleted/lost data ,like SMS,contacts,photos from your iPhone 6S/6 Plus,6S/5S/5C/4S, by downloading iOS Data Recovery. Maybe you just want to clean SMS or iMessages permanently so that this dara disapprae forever and prevent it never to be found. Delete SMS or iMessages directly from iPhone can not delete your personal data permanently. Though you cannot see them display on your iPhone, they still exist in somewhere on your iPhone, occupying your memory storage and making you have to worry about the risk of exposing your privacy.
Why Erase SMS off iPhone before Selling it?

For the reason why it is important to find the best way to delete sms and other private data before selling the old device?Because we must to keep our private imformation be restored and stolen by someone,we can selling the old device,but we can not expose the important private information! Luckily, follow this passage,you will be learned how to delete SMS and iMessages on iPhone before selling. To ensure all SMS or iMessages were permanently deleted, it is highly recommended that you download the iPhone iPad Data Eraser program to completely erase SMS or iMessages on iPhone, it can hide the traces and no one knows you had erased your device.With the same method, you can delete photos,contacts,videos,ect. Further more, this program ensure that 100% nothing recoverable even if use the third party data recovery tool.

At the monent, you can check the following 3 steps to learn how to use this iOS Data Eraser software to delete private SMS or iMessages from your iPhone completely.

Free Download to delete data permanently:




Easy Steps to Wipe SMS on iPhone Completely

Step 1. Connect iPhone to a PC and Select Right Erasing Option
Plug the iPhone to computer via USB cable. The program will detect the device once it was well connected. Then you can proceed to the next step. However, if the program can't detect the device, please make sure iPhone USB driver and iTunes are installed properly on the computer.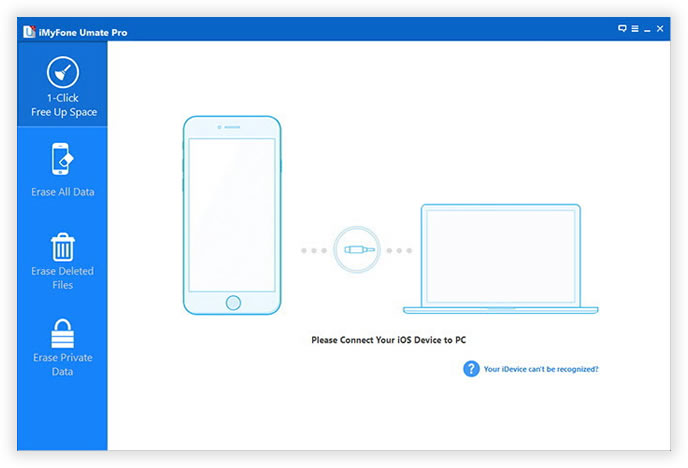 Step 2. Scan and Preview the deleted SMS or iMessages
You need to choose Erase Deleted Files on the left side, and then you can click "Start" button on the right side. The software will take some time to scan your deleted data, that's why you need to delete the text messages manually in the first step.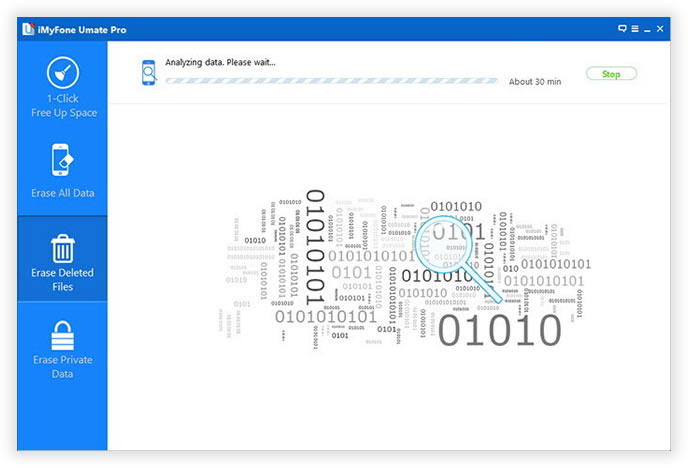 Step 3. Permanently Wipe All SMS or iMessages on your iPhone
When the scan finished, you can preview the file of scan result at the right side of the interface. After checking everything is ok for you, you just need to click one more button to get this job done; you can find the Erase Now button at the bottom right side.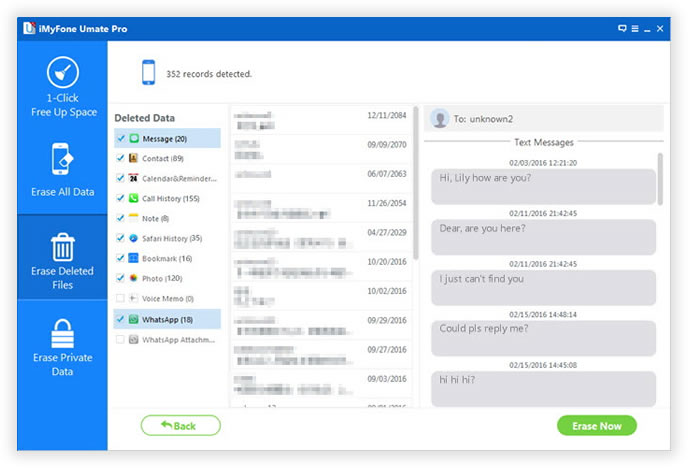 Free download the iPhone data eraser:






More About Deleted iPhone Data Forever:
---
How to delete contacts on iPhone permanently
If you have deleted the contacts and they still show up on search when sending a message. It prove that you have not delete contaces permanently. These data are now hiding in the area where you can not see. You must deleted them by the third software.

How to Delete iPhone Data without Restore
Hello, I need to permanently wipe data (text messages, contacts, photos, videos) off iPhone 4s, but there are still many privacy information stored in my iPhone 4s, even though I deleted them, but I was totally surprised to learn that it can be able to restore my deleted text messages, contacts, photos from my iPhone 4s, I'm very worried about. And want to know what I should do.