"My iPhone says I have 3.2GB of messages caches (saved). I've looked into it in other forums and people are saying it's a glitch with the iOS software. No matter whether it is truth or not, I am just wondering if there's any new info on how to remove these unneeded messages."

With the increase in the number of iPhone users, more and more guidance on the use of iPhone, as well as this guidance. These guidelines will always giving assistance for iPhone users, such as data recovery, data eraser, data transfer and so forth so that they can deal with their problem at ease.

Today, we are here to discuss is how to delete iPhone SMS all at once. This is not surprising for iPhone users will ask such questions: Do your messages occupy a lot of memory on iPhone? Do you want to delete iPhone SMS all at once? We made the following answer to the above question. The guide show you two methods on deleting all iPhone text messages at once. Different methods have different advantages. You can choose a method which is more suitable for you. Now keep on reading and find the way.

Solution 1: How to Remove All SMS at the Same Time on iPhone

This method allows you to quickly and easily deleting all iPhone SMS. You can operate directly in the iPhone page. It provides iPhone to deleted all iPhone SMS at the same time for free. Take the latest iOS 9 device as an example, now learn and begin your iPhone SMS deletion:

Step 1 Entering iPhone Messages App

You can open your iPhone home screen and find your "Messages" app, entering and clicking"Edit" button.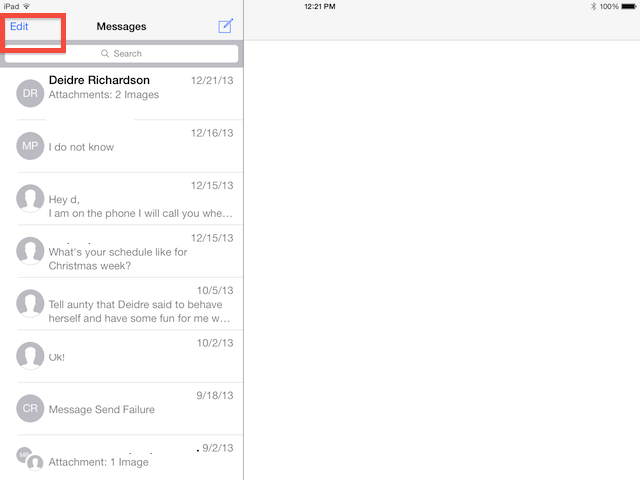 Step 2 Select Messages to Deleted Saved SMS

If you want to delete all iPhone SMS, you can tick all and then your iPhone SMS all will be deleted at once.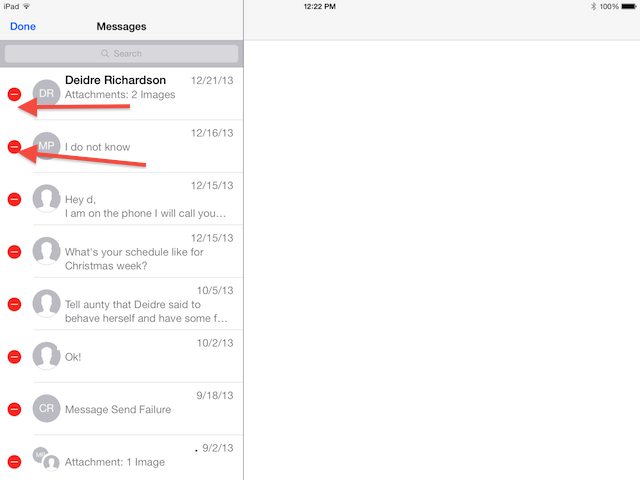 Step 3 Delete All SMS on iPhone

After tapping the red circle, the word "Delete" will appear to the right of the name and the date. Select "Delete," and the saved messages will disappear.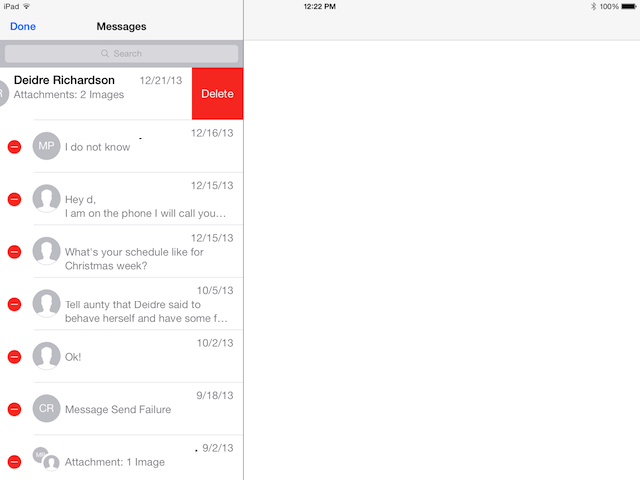 Disadvantage : However, if you delete text messages on iPhone just by simple way as solution one,or erase iPhone data by factory setting reset, both can't permanently erase your iPhone data,because some data recovery in market can recover them back easily (likeDr.Fone iOS Data Recovery).Before selling the old iPhone,please remember wipe all SMS on iPhone without restored by any professional data recovery, you must to erase all "already deleted" and "existing" messages permanently. It is highly recommend to use the following solution I am gonna to mention in the next section, as the data will be deleted permanently even no data recovery can get them back.

Solution 2: Permanently Erase Deleted and Existing SMS on iPhone at once

In this way, you can permanently clear all iPhone messages/iMessages/MMS at once if you use iPhone Data Eraser software. This professional data eraser program allows iPhone users to wipe all SMS from iPhone at once with a few simple steps. All of iPhone devices such as iPhone 6S, iPhone 6, iPhone 5S, iPhone 5, iPhone 4S, iPhone 4 are supported by this iPhone Data Eraser. Similarly, not only SMS but also contacts, notes, pictures, videos and more files can be removed permanently, and nobody can recover those deleted data from iPhone,eve use the professional data recovery software in market.Thus, if you really want to delete all iPhone SMS at once and without recovery, you should backup data what you need before.
Learn more in how to backup iPhone SMS to computer

Free download the iPhone Data Eraser and have a try:






Step 1 Download iPhone Data Eraser and Connect to PC

Firstly, you need to download and install iPhone Data Eraser software. Launch it and connect your computer with your iPhone via the USB cable. If the connection is successful, your iPhone will appear in the software interface, as below: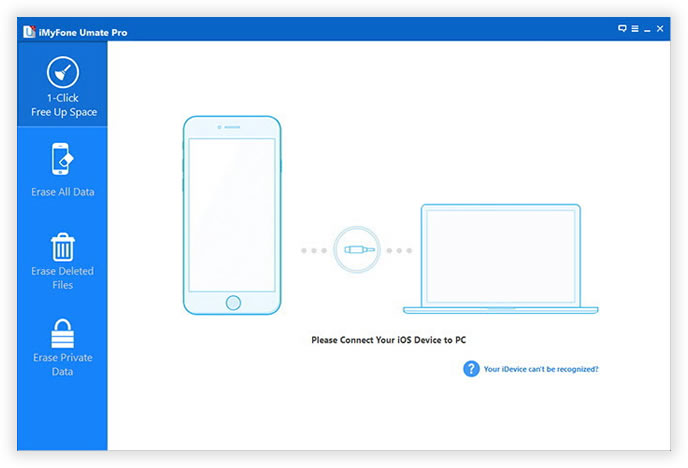 Step 2 Click "Erase All Data" Mode

You need to click "Erase All Data". This deletion mode allows you to wipe all data, like SMS, Call History, Notes, Voice Memos, Safari Bookmarks, Photos, Videos, and more on your iPhone.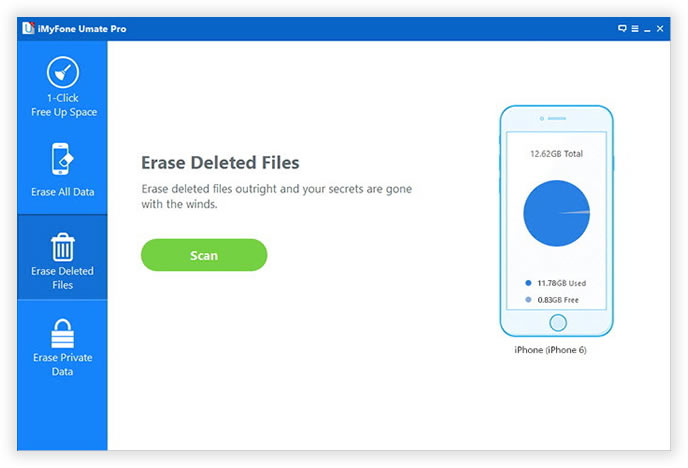 Step 3 Start Analyzing and Scanning SMS on Your iPhone.

In this step, it will automatically analyze and scan all your deleted files in your iPhone device; generally it takes few minutes to complete the process depending on the file. After scanning, you can select the deleted all SMS to view detailed information on the file.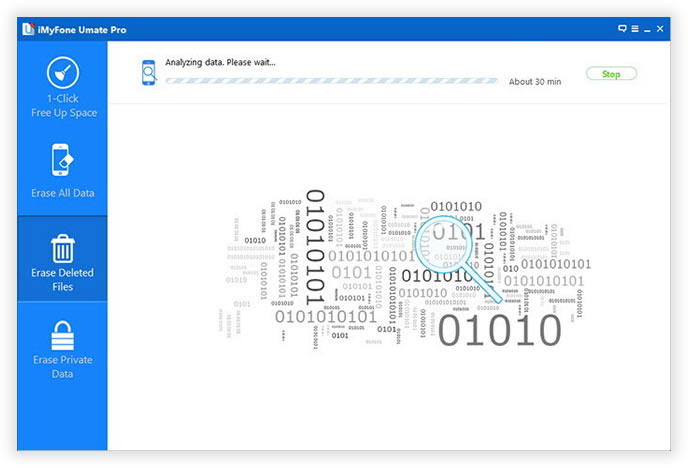 Step 4 Preview and Erase All iPhone SMS You Want

After scanning, all deleted SMS will be scanned out and presented as detail. At last, you need to click "Erase" button to delete iPhone SMS all. When the eraser is completed, your iPhone SMS will be removed without restoring.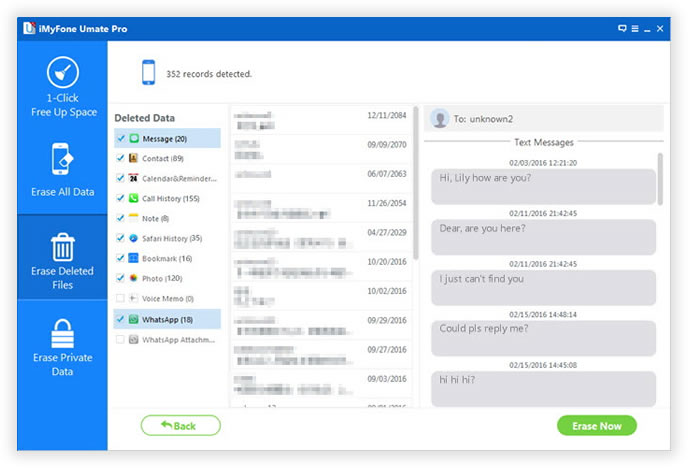 Step 5 Successfully Remove

You have successfully delete iPhone text messages all.

Free download the iPhone Data Eraser:






This is the most direct way for iPhone users to clean their SMS data permanently. As everyone knows, just delete the messages from the surface is not completely. In fact, these deleted text messages are still stored in places you can not see. If you want to clear iPhone SMS all so that you can expand the storage space, you can only use the first method. However, if your iPhone memory is big enough that you do not need to clean up the memory space, you can use the following method.

Related Articles:
---
How to Delete All Contacts on iPhone at once

How to Deleted Photos on iPhone permanently

How to erase iPhone data permanently