"I deleted all photos and videos in my photo library to free up space on my iPhone 5S. However, in usage it still shows the photo library used more than 6GB space. in "about" page of setting, it shows 900 photos and 40 videos on my iPhone 5S. but I cannot find any photos in photo library, as well as from iTunes. It bothered me for several times. Does anyone can help me?"

Everyone knows that today's world of advanced applications, high-end cameras producing detailed photos and quality video, it's all too easy for your iPhone to fill up storage. Even iPhone users with massive 64GB storage models can find things get out of hand fast, so it's even worse if you're on the entry-level 16GB, or if you're using an older 8GB model such as the iPhone 5C. Photos take up a lot of rooms on our devices, any new photos that you take get put into the Camera Roll folder. And deleted photo automatically gets put into the Recently Deleted folder, meaning that it's not truly deleted from your iPhone or iPad device. Therefore, they may appear to be deleted, but upon checking the iPhone's Settings>General>Usage>Manage Storage screen, the facts imply the photos still take up space on the device. These deleted photos are still taking up a large number of precious storage space on your iPhone device. What's worse, the deleted images will still remain on your device for 30 days, taking up space and still being accessible and can be recovered by anyone with access to your iPhone.

Here is a direct way for iPhone users to delete photos from iPhone device, fast but not completely.
Step 1. Select "photos" icon on the home screen.
Step 2. Select one photo to be deleted from the camera roll.
Step 3. Tap "trash" icon located at the screen's bottom.
Step 4. Select "delete photo" button to delete the photo to be removed from the camera roll.
Repeat the process for each photo to be removed.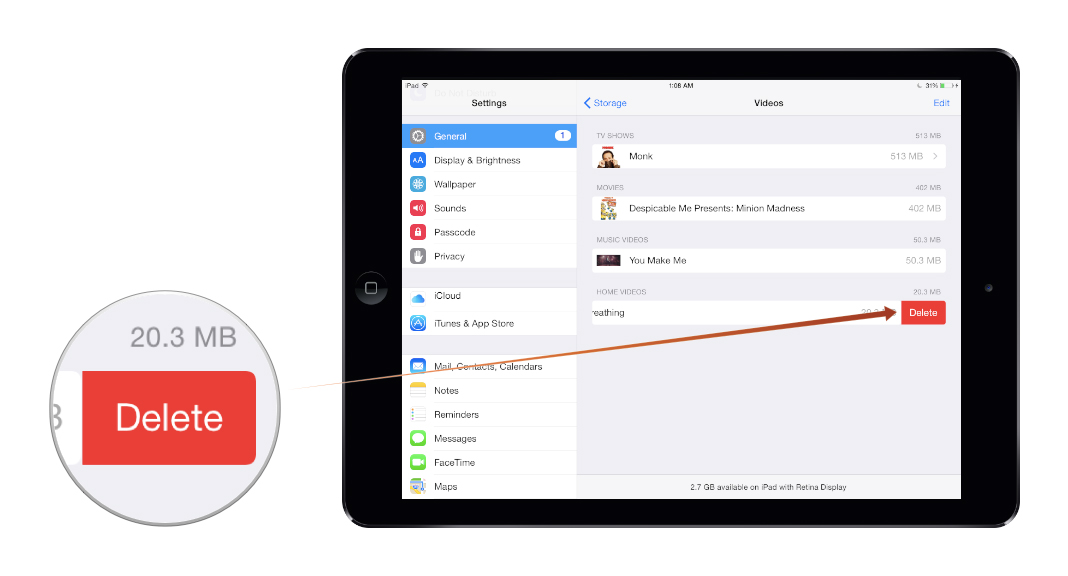 In general, the photos stored in the Photos application on your iPhone can begin to take up some too much space on your iPhone, causing it to slow down or operate poorly. Clearing out photos that you don't use anymore can keep your device performing well and give you plenty of room for fun new apps and new memories. It is time to release your iPhone storage space. Here are two ways you are recommended to permanently clean up your photos on iPhone and compress photos to free up storage.

Here, you are strongly recommended that using the following safe and effective methods to release your iPhone storage space.

Part 1: Permanently Deleted Photos/Videos on iPhone to Free Up Storage

Simply deletion won't erase your iPhone photos really. A data recovery tool can easily recover deleted pictures on iPhone. iPhone Data Eraser is such a tool to perform a permanent data erasing on your iPhone. This tool supports to erase all photos from iPhone permanently, as well as text messages, contacts, videos, account info, password, etc. And it works with all iPhone, iPad and iPod series, including jailbroken iPhone and carrier-locked iPhone, protecting your personal information by removing it permanently and preventing them from being recoverable.

Click and download the trail version:






Key Features of iPhone Data Eraser:

* Permanently erase your Android & iPhone files, including text messages, contacts, photos, videos, account info, password, notes, ect;
* Clear private data on iOS devices for iPhone 3GS/4/4S/5/5C/5S/6/6S, iPad Mini/Pro/Air, iPod Touch;
* Free up storage space and speed up iDevices;
* Compress large volumes of data on iDevice;
* Support iPhone(iOS 6.1.6 and higher) and Android devices(from Android 2.1 to Android 6.0).

Step 1. Run Software and Connect iPhone to PC

After downloading and installing iPhone Data Eraser program on your computer, run it and connect your iPhone to the computer via an USB cable. The connected iPhone will be detected by the software.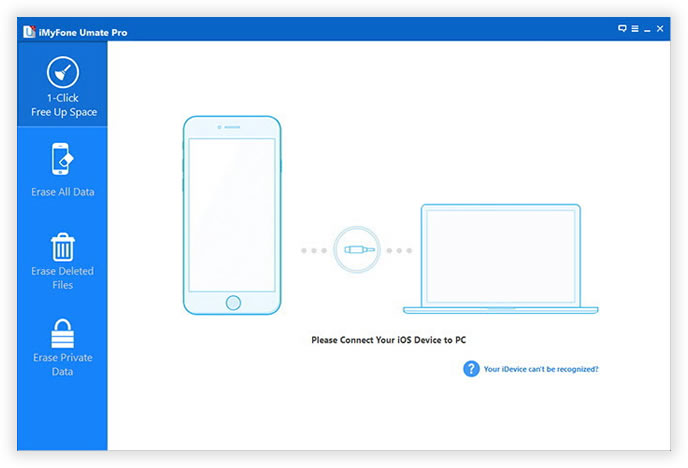 Step 2.Click "Erase All Data" Mode

You need to click "Erase All Data". This deletion mode allows you to wipe all data, like SMS, Call History, Notes, Voice Memos, Safari Bookmarks, Photos, Videos, and more on your iPhone.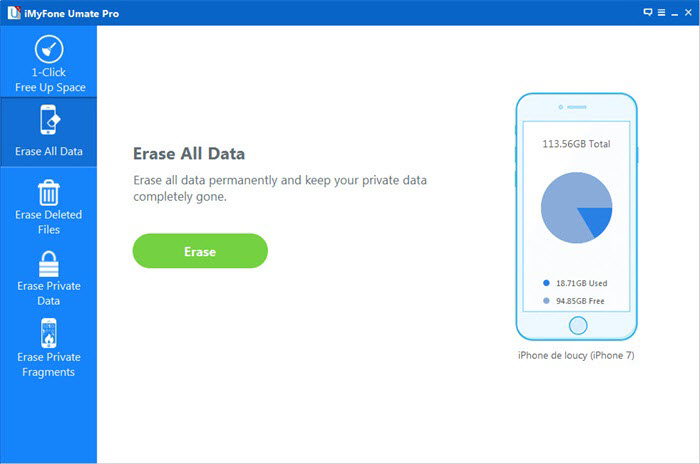 Step 3.Start Analyzing and Scanning Photos and Videos on Your iPhone

You will find that the program will analyze and scan all the data of your device automatically. After scanning, you can select the pictures to view detailed information on the file.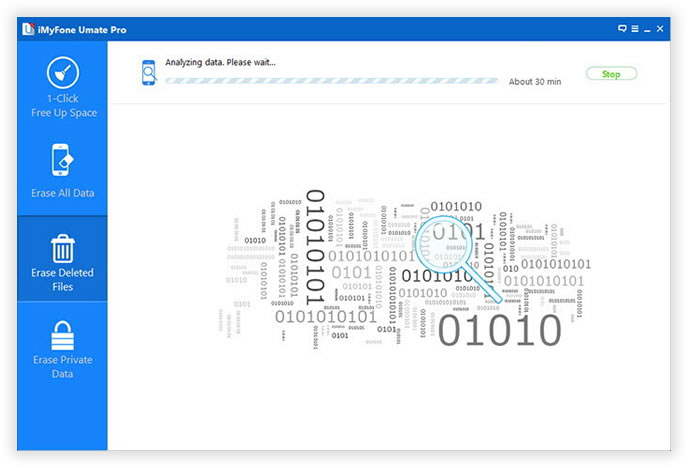 Step 4.Preview and Erase All Photos,Videos Data on iPhone Permanently

After scanning, all pictures will be scanned out and presented as detail. At last, you need to click "Erase" button to delete iPhone images. When the eraser is completed, your photos will be removed without restoring.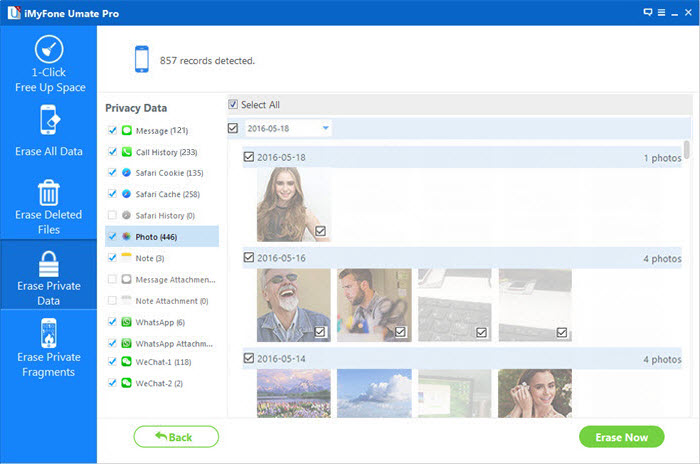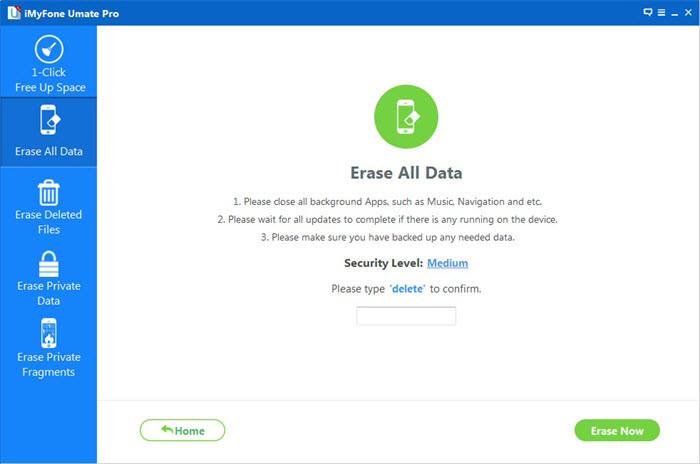 Step 5.Successfully Remove All Photos from iPhone Permanently

After deletion of photos is completed, the message of "successfully erased" will pop up. During this entire process, make sure you iPhone device and computer are connected to each other properly.

However, if your iPhone memory is big enough that you do not need to clean up the memory space. If not, you can use this method to free up your iPhone 3GS/4/4S/5/5C/5S/6/6S storage space.




Part 2: Compress All Photos on your iPhone to Save Space Up to 75%

In addition, if you do not want to delete your photos because they are precious and unique for your life, you still have another choice. iPhone Data Eraser allows iPhone users to compress all photos to free up space on your iPhone, so that they occupy a minimum of space. And it will not affect your iPhone normal operation.






Step 1. Download and Run iPhone Data Eraser App

After running the program on your PC, you need to connect your iPhone device to cpmputer. Then click on "photo compressor" to see how the photos look like.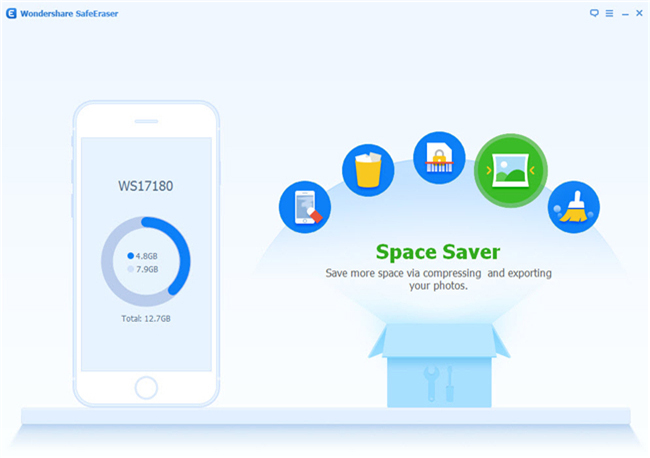 Step 2. Start Scanning Your images on iPhone

Here you can click on "Start Scan" to retain more space. iPhone Data Eraser app takes only few seconds to complete the scanning.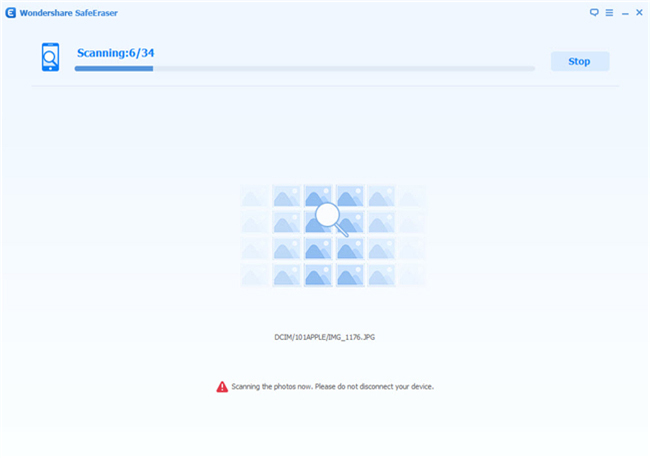 Step 3. Compress All Photos on iPhone to Save Space Up to 75%

Finally, you just need to select "Start" to allow the program to compress the your photos on iPhone device.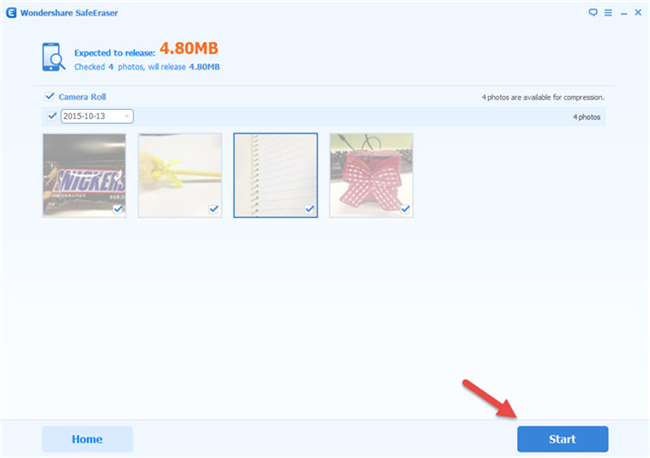 Free download the Phone Data Eraser:






Related Articles
---
How to Clean iPhone Memory and Free-Up More Memory Space

How to Permanently Delete iPhone Text Messages