Many ios users say that the 16G version of iPhone 6, iPhone 5S/5/4S/4 did not keep many things to prompt memory is not enough, this happens to be how to release more memory space on iPhone? In this situation, today we share a few popular methods to free up space on your iPhone/iPad/iPod. I want to help you.

iPhone Storage Full? How to Free Up Space?

Although Apple is among the most fluent iOS operating system, but after a period of time will feel significantly Caton phenomenon, which is due to the system itself is occupied by a large number of cache and APP iPhone due to insufficient memory. Recommended for everyone today small four kinds of methods to solve the problem of the iPhone memory, the iPhone version of the tool to clean up memory instability and escape restrictions, the next iPhone is recommended to clean the device itself memory-based methods, insufficient memory to resolve iPhone and so on.

How to Check your storage on your iPhone, iPad, and iPod touch

Tap " Settings > General > Storage & iCloud Usage" instructions go through after this, your phone software and other content on the inside, where you can see the used and available storage space storage space

Remove Unwanted Apps to Free Up Storage Space

To get an idea of which unwanted apps are using the most space and delete them,please tap " Settings > General > Storage & iCloud Usage > Manage Storage", then select the Apps you do not need to delete.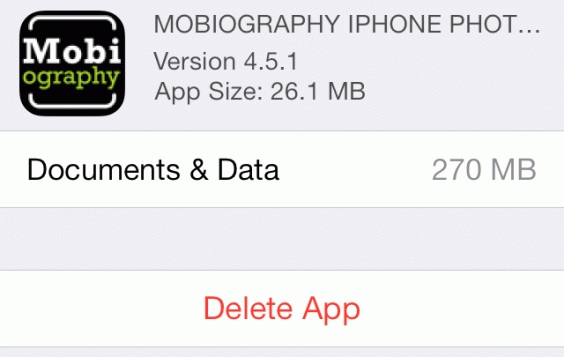 Or simply return to the home screen, tap and hold the app in question until it starts jiggling about, then tap the cross in the corner.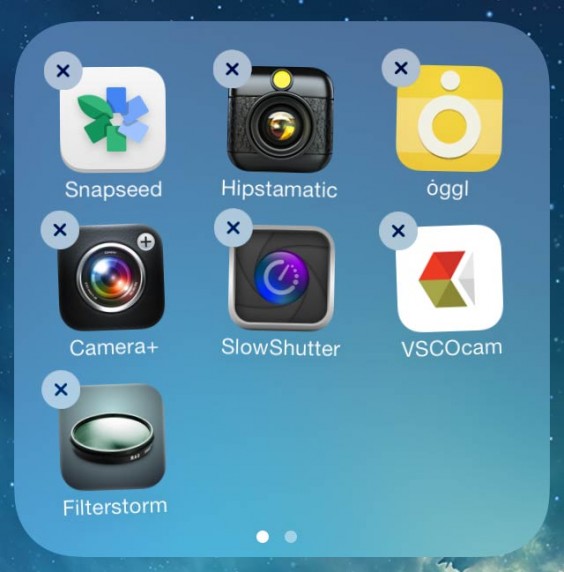 Free Up Photo Storage Space on your iPhone

Many people use iPhone or iPod to take pictures,however,a lot of photos, videos stored on your iPhone, and these photographs occupy most of the storage space, if there is not enough memory space on Your iPhone, how to deal with it your precious photos? Today,we teach you a easy way to release the storage through compressing the photos on iPhone,iPad.

The iPhone Space Saver - iPhone iPad Data Eraser can help you compress the photos on your ios devices and save your iPhone/iPad space easily,compressed picture quality be lossless.How to compress all photos on iPhone? Because the iPhone iPad Data Eraser only be downloaded and used on computer,please connect your iPhone to computer,then use the program to compress the photos on your iPhone, and after compressing, the photos will stay on your iPhone device.In additional,the iOS Data Eraser can help you export and transfer the photos from ios devices to PC or Mac for back,just release the storage on device though backup iPhone photos,and then delete all photos on your device.

Free download the iOS Data Eraser and have a try!






iOS Data Eraser Key Features:



Two Ways to Save your iPhone/iPad Space by iOS Data Eraser:



Let's learn how to deal of the important photos on iPhone to free up more memory space.
Way 1: Compress All Photos on iPhone to Release Memory Space

Step 1.Run the program on computer and Connect iPhone to PC/Mac
First of all,please download the iOS Data Eraser install and run on your computer,then connect iPhone to computer via a USB cable. If this is the first time you connect to the computer, you need to Trust the computer firstly.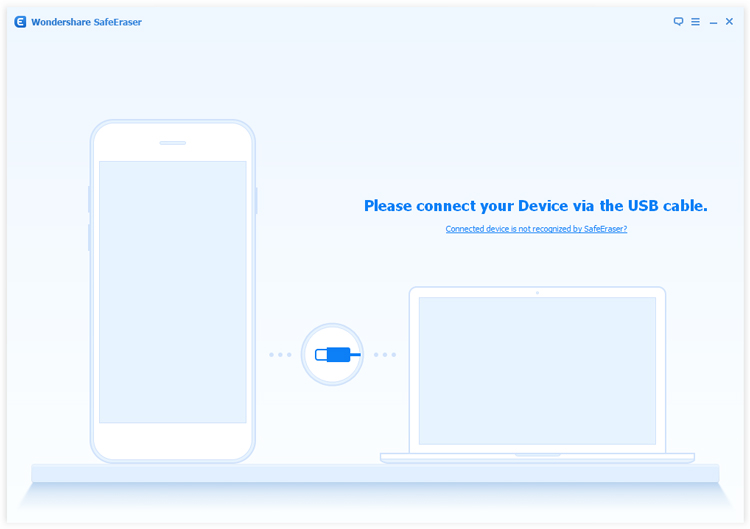 Step 2. Select the features "Space Saver"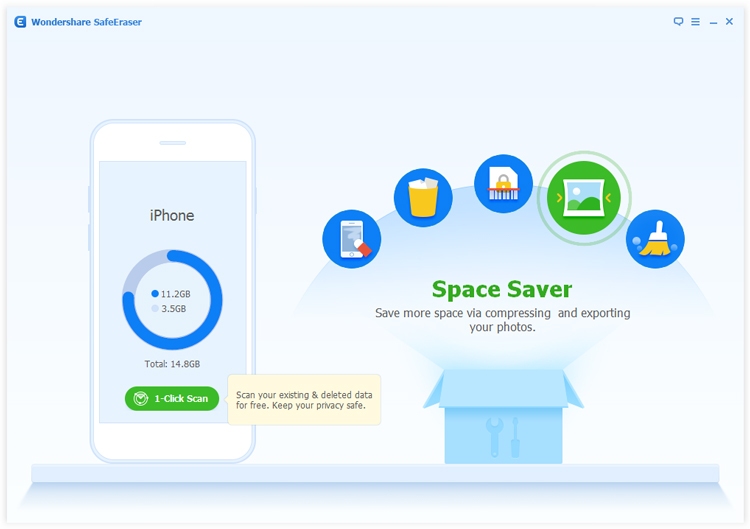 Tips: The program provides you two ways to free up storage space on your ios devices:
Save more space via compressing and exporting your photos to computer

Step 3. Begin to Compress iPhone Photos on computer
To compress photos on iPhone,please click "Compress way" on the right option,and then click "Compress" button, the program will start searching photos which can be compressed and list them all.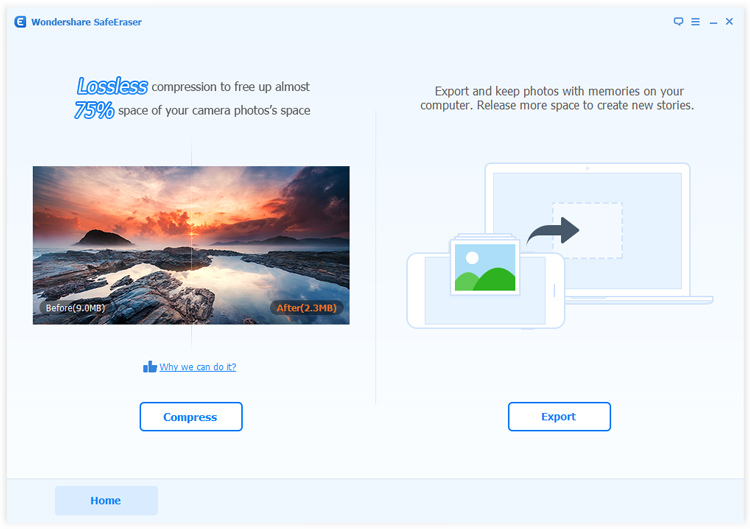 Only few minutes,the iOS Data Eraser program will compress the photos on iPhone complete,and it will show you how much space was saved in the end.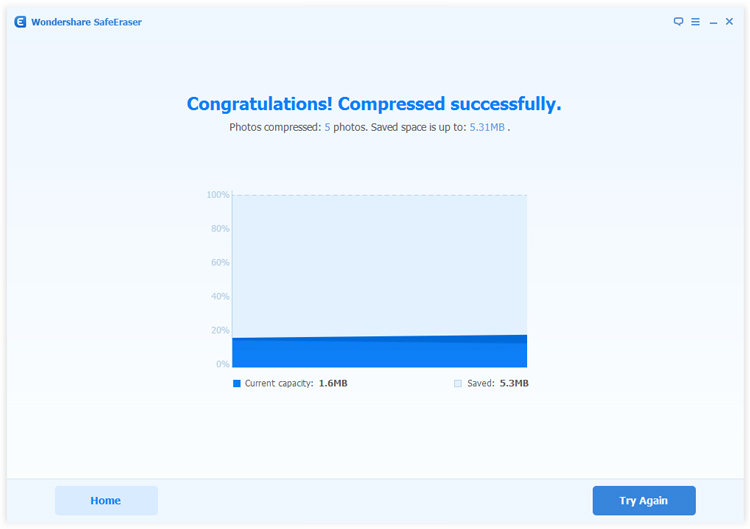 Way 2: Export Photos from iPhone to Computer to Release Massive Memory Space

Step 1.Select the features "Space Saver"

Step 2. Click the "Export way" on right
You can choose the second way to export and keep photos with memories on your computer,release more space to create new stories.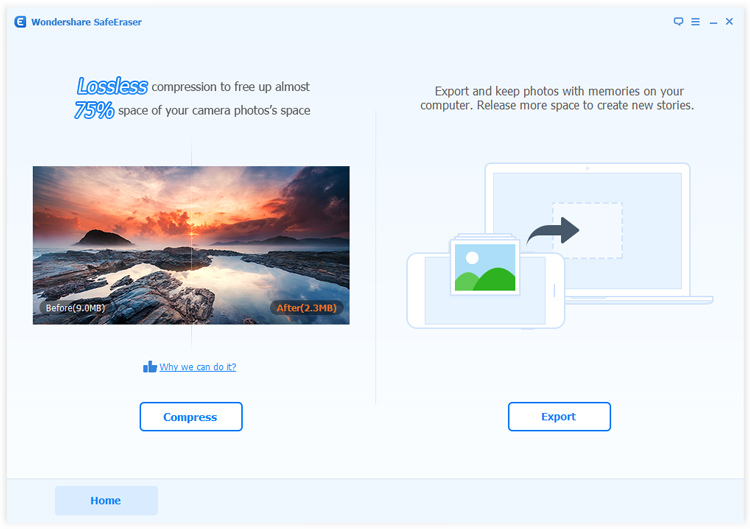 Step 3. Choose to Export iPhone Photos to PC Only or Export then Delete after Search
And then let's the program search all photos on ios device,you can choose either to "export only" or "export then delete after search". Just click to choose which one(s) you want to export. Finally click Start button.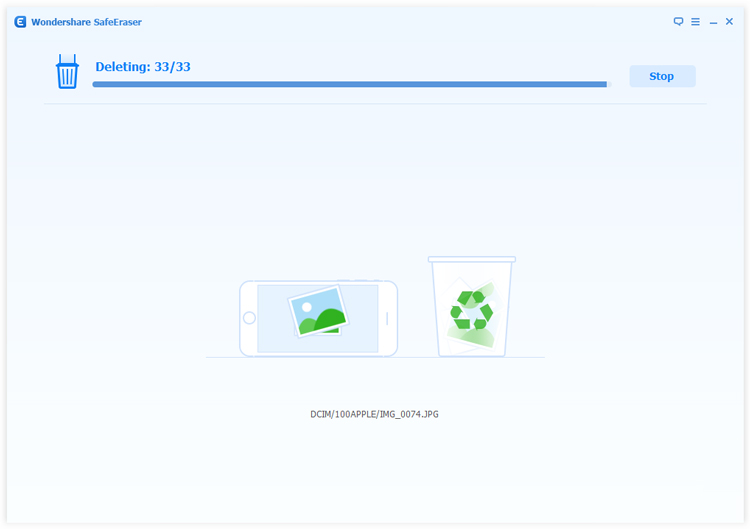 Step 4. Begin to Reboot and Clean the Photos on iPhone
The last steps,your iPhone will reboot and clean the pictures automatically. After the process finish, The iOS Data Eraser program will show you how much space you saved on iPhone. You can quickly open the folder contains exported photos by clicking the "Open Folder" button.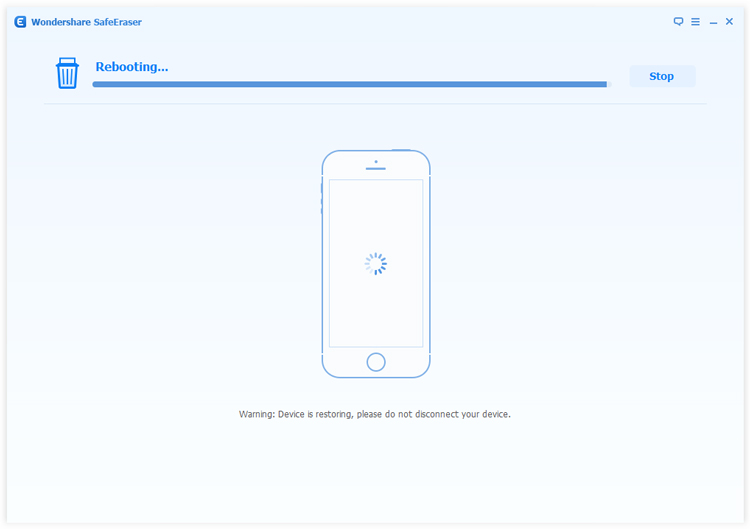 Well done,you have successfully free up more storage space on your iPhone thought compressing the photos or export iPhone photos to computer for back.

Free download the iOS Data Eraser and have a try!






Tips: The iPhone iPad Data Eraser is designed for users to wipe all data from ios devices permanently,it allows users erase photos, videos, apps, contacts, messages from iPhone without restored by data recovery in market.Now,you can download the iOS Data Eraser for free,and begin to delete iPhone data permanently. The kinds of iDevice that it supports include iPhone iPhone SE, iPhone 6S/6(Plus), iPhone 5s/5c/5, iPad, iPad Pro, iPod touch 5 and so forth.

Backup and Restore iPhone Data Before Data Erased

If you're serious about protecting your photos and any other important data then you should already have a backup plan in place. If you don't then you really need to consider getting one. Losing valuable files, photos and memories isn't funny.
Please go to: How to backup and restore iPhone data

Clean Up the iPhone's Storage Space without Plug-ins:

Method One: Double-click the Home button iPhone devices, manual clean-up within the system cache, without any plug-ins or restart the device to be turned off excess casting process memory.

Method Two: Restart the iPhone, a device equipped with IOS system restart once clear all cache, eliminating the need for double-click the Home button and other cleanup operations.

Method Three: re-upgrade system,
Upgrading the system will automatically fix some lead to insufficient memory iPhone Bug, but the new features of the new system will also increase the burden of IOS, the new version may also appear Bug, before users can upgrade SHSH backup, in order to reduce the system well prepared .

Method Four: Resynchronize applications, music, video, and iTunes synchronization process fails if used, is not fully synchronized to the device file causes the device space narrowing; resynchronize automatically clean up junk files incomplete, cast more system space.

Note: With the escalation of IOS system, iPhone device itself will load more and more, while the memory problem of insufficient capacity will gradually highlight the IOS device. The difference is that with the Android system, IOS device memory and space is always the system itself, can not be derived by SD card expansion: Shopping Guide Network.

Read More Articles:
---
How to Erase Data on iPhone Permanently

How to Erase Junk Files from iPhone/iPad

Permanently Delete Text Messages on iPhone

How to Speed Up slow iPhone, iPad