Summary:
iOS 10 finally comes with magnificent new features such as new Siri, iMessage, Apple Music etc,there are ten key features in iOS 10: Lock screen and control center optimization; Siri not "mentally handicapped" Really smarter; QuickType updated history of the most resourceful apple input method; album supports face recognition; Apple Map updates; new Apple Music; New Apple News; more content the HomeKit; telephony application updates; update application information.However,how to download and install iOS 10 on iPhone, iPad, iPod Touch avoding data lossing? Here in this passage, we'll introduce you effective methods to update iPhone/iPad/iPod to iOS 10 without losing data now.


Now, please follow this article to download the latest iOS 10 beta safely without data loss.


Please keep reading as below to upgrade your iPhone/iPad/iPod to iOS 10 and avoiding data loss.

Tips: What to do before upgrading to iOS 10

Knowing what should be done before updating iOS system to iOS 10 will greatly help you save wonderful time and energy. It will also help you to prevent quite a lot unexpected problems such as low battery, low space to install iOS files etc. Let's see what should be done firstly before updating to iOS 10 now:

1. Connect your iPhone, iPad or iPod touch with WiFi;
2. Leave at least 4GB free space for iOS 10 and install the new iOS 10 installation files;
3. Leave at least 45% battery for installing the new system;
4. Get the latest version of iTunes;
5. Backup iPhone,iPad,iPod data to iCloud, iTunes or computer.

Part 1: Backup all the Data of your iPhone/iPad before iOS 10 Upgrade

As well all know,every iOS upgrade may cause erase data and setting on your iOS devices.However,before upgrade your iPhone/iPad/iPod from iOS 9, iOS 8 to iOS 10 beta, it is important to note that you should backup everything from iPhone,iPad,iPod to computer before iOS 10 upgrade. To avoid data loss after iOS 10 update, we suggest you transfer contacts, text messages, photos, videos, music, notes, call history,ect from iPhone,iPad to comptuer for back. iTunes or iCloud are both good choices for you,but it's hard to restore the backup files to your iPhone,iPad after the update processing. However,we recommend you third-party iOS Backup and Restore tool to backup and restore data from iPhone on computer.

The iOS Data Backup and Restore tool and Phone Transfer both can help you backup data and restore to iPhone,iPad,iPod after iOS 10 upgrading.Follow these quick steps to transfer your data from ios devices to computer safely and easily, including text messages, imgssages, contacts, phone numbers, whatsapp messages, call history, photos, videos, songs, bookmarks and so on.

Way 1: Backup All Data from iPhone/iPad/iPod Touch to Computer by iOS Backup and Restore tool

iOS Data Backup & Restore - Dr.Fone Toolkit's key features allows you backup and export data from iPhone/iPad/iPod to computer,including contacts, sms, photos, videos, whatsapp data and more,it can help users making it easy to backup, export and print iPhone/iPad/iPod data on computer before iOS 10 upgrading, and even selectively restore the backup files to the iOS device after iOS 10 upgrade; downgrade iOS 10 to iOS 9.3.2; jailbreak; factory setting reset.What's more,this all-in-one program can help users recover deleted data from iPhone,iPad and iPod on iOS 10, iOS 9, iOS 8 in three recovery modeos.






Step 1. Connect iPhone devices to Computer
After launching the iOS Data Backup and Restore tool on your computer, click on "More Tools" from the left column, select "Device Data Backup & Export" option from the tool list. Then connect your iPhone to computer by USB cable. By default, the program will automatically detect your iPhone device is connected successfully.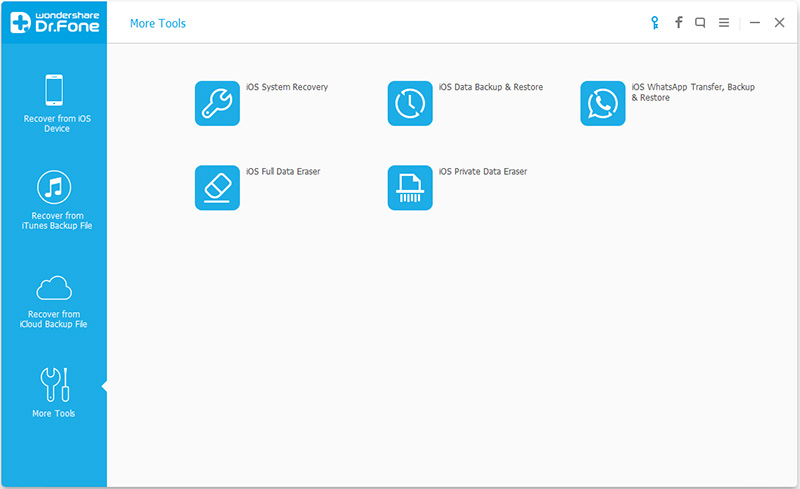 Step 2. Select What Types of File you Want to Backup
When you device is connected successfully, the program will detect all file types stored in your iPhone device automatically, and then please select what file types to backup from your iPhone devices. Then click on "Backup" button to backup contacts, sms, photos, videos, call logs, memos and other files from your iPhone to computer directly.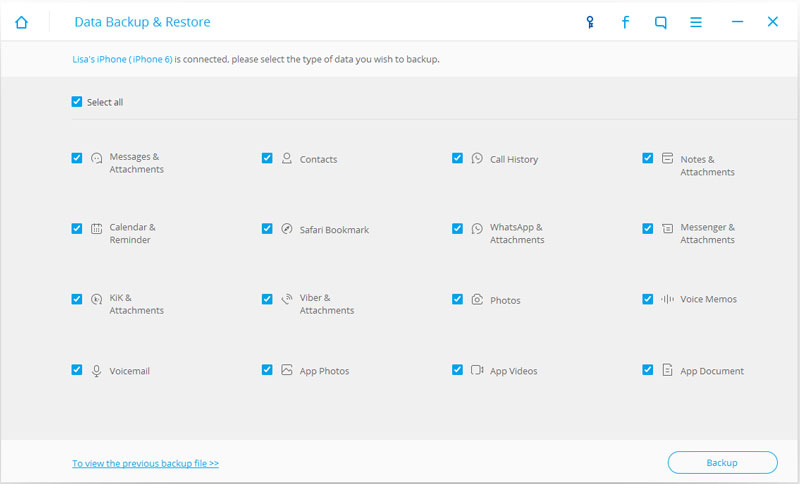 Tip: If you have used this program to backup your device before, you can click on To view the previous backup file>> to view the previous backup file list.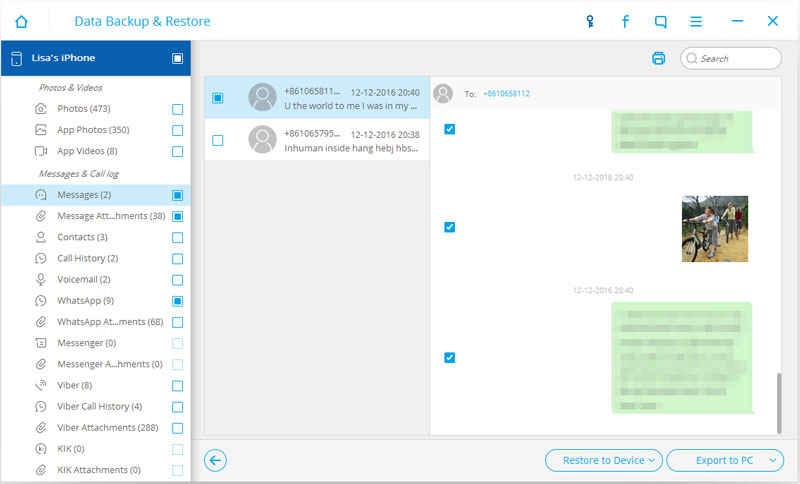 The whole backup process will take a few minutes, depending on the data storage on your device.During the backup process,please keep connecting your iPhone to computer and wait be patiently.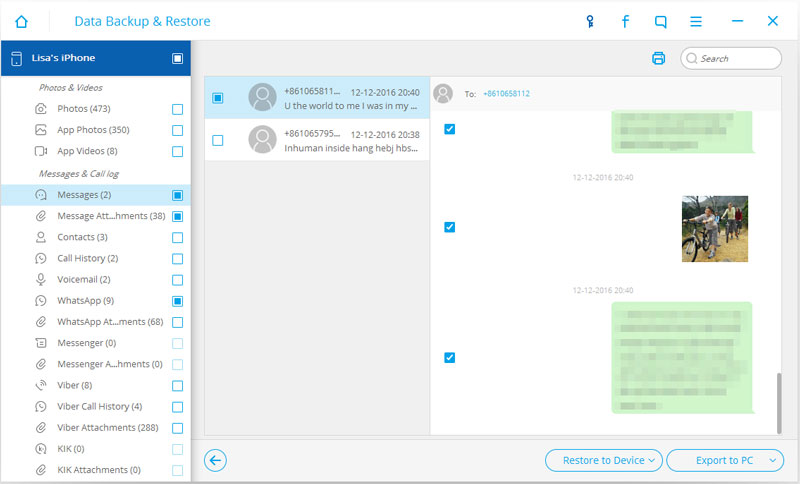 Let's teach you the other program to backup data from ios devices to computer.

Way 2: Backup all Files of your iPhone/iPad/iPod Touch by Phone Transfer

The Phone Transfer not only can help you transfer data from iOS to iOS, Android to Android,Android to iOS, iOS to Android,as well as iOS, Android, Symbian Nokia, BlackBerry, Windows phone,including contacts, sms, photos, videos, music, call history,ect.But also allows you backup data from iPhone,iPad,iPod to computer before iOS update,and restore them back to your iOS devices after iOS 10 upgrade.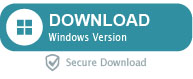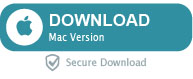 Step 1. Run the Phone Transfer on Comptuer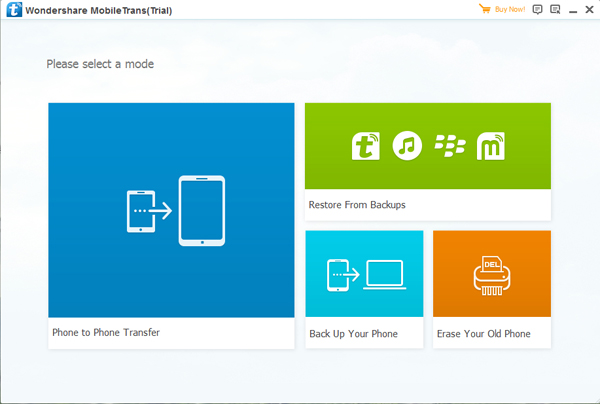 Step 2. Click "Back up your Phone" in the main interface.
Notes: If you want to customize the location of your backup folder. Simply click the menu on the right top of the window and then choose "Settings" to do this. Once you are happy with the location folder, click "Ok".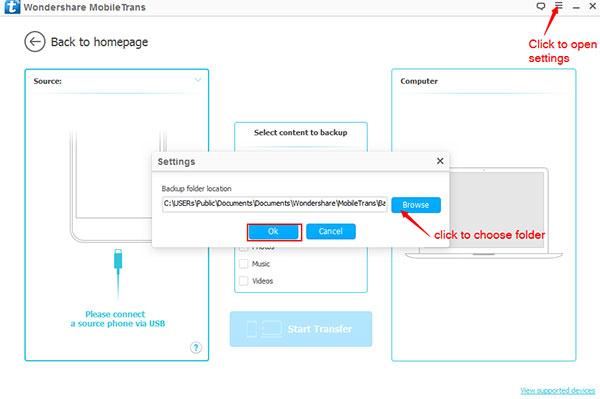 Step 3. Connect iPhone to Computer via an Apple USB cables.
Let's the Phone Transfer program recognizes your device,this process only takes you few seconds.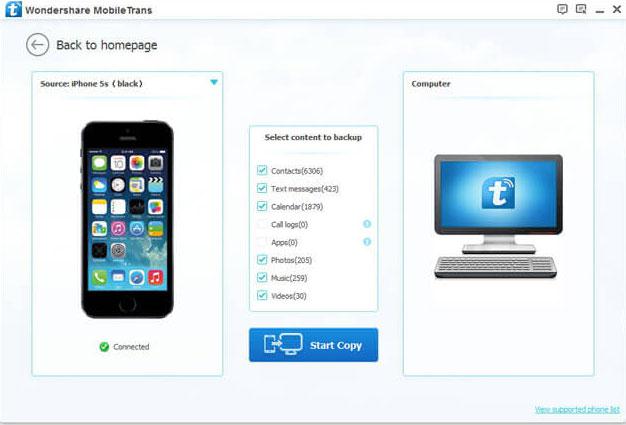 Step 4. Select the type of files you plan to backup from iPhone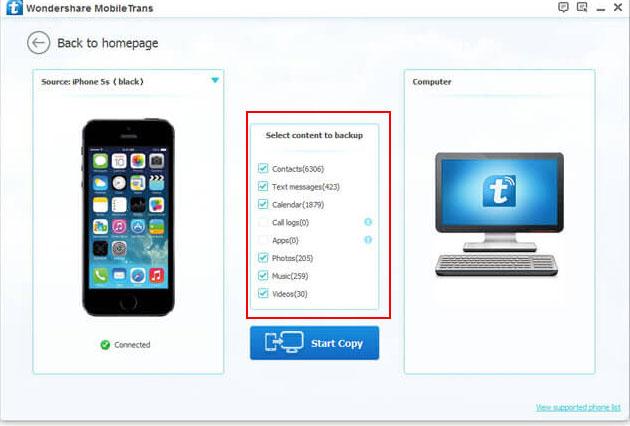 Step 5. Begin to Backup iPhone Data to Computer
In this step,just click on "Start Transfer" button to begin transfer files from iPhone SE to computer for backup.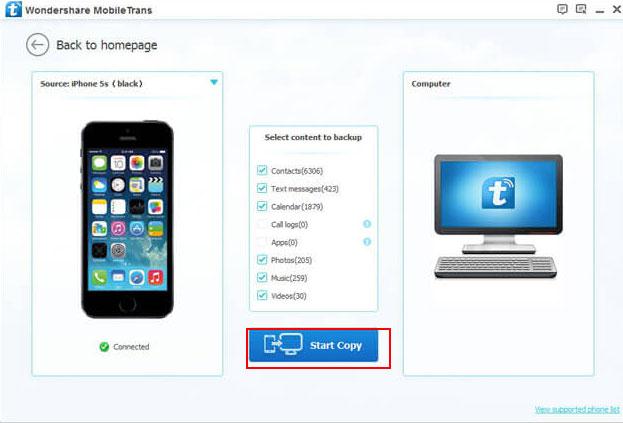 Tips: Keep the phones connected during the backup processing.

Part 2: Download iOS 10 Firmware and Install iOS 10 Beta on Your iPhone or iPad

Step 1.Check whether your device supports iOS 10.

iOS 9 did not give up the old devices, including iPad 2 and iPhone 4s are still able to upgrade. However, iOS 10 will most likely no longer support iPhone 4 and iPhone 4S these two devices.
iOS 10 beta (developer test version) will be released in July, the official version will be released in September 2016,however, the latest iPhone 7 equipped iOS 10 operating system.

Which devices iOS10 support? List of iOS 10 supported devices

iPhone: iPhone 6s, iPhone 6s Plus, iPhone 6, iPhone 6 Plus, iPhone SE, iPhone 5s, iPhone 5c, iPhone 5
iPad: iPad Pro (12.9-inch), iPad Pro (9.7-inch), iPad Air 2, iPad Air, iPad 4th generation, iPad mini 4, iPad mini 3, iPad mini 2
iPod: iPod touch (6th generation)

There are two methods for your install iOS 10 Beta on your iPhone,iPad and iPod,the method 1 is for those have joined Apple Developer Program team(have Apple Developer Account),the method 2 is provided for everyone(except for iPhone 4/4s users).

Method 1: Install iOS 10 Beta OTA Update With Developer Account

If you have a developer's qualifications, you can enter the device in the iPhone "Settings → General → Software Update" to download the upgrade patch updates iOS10 beta1.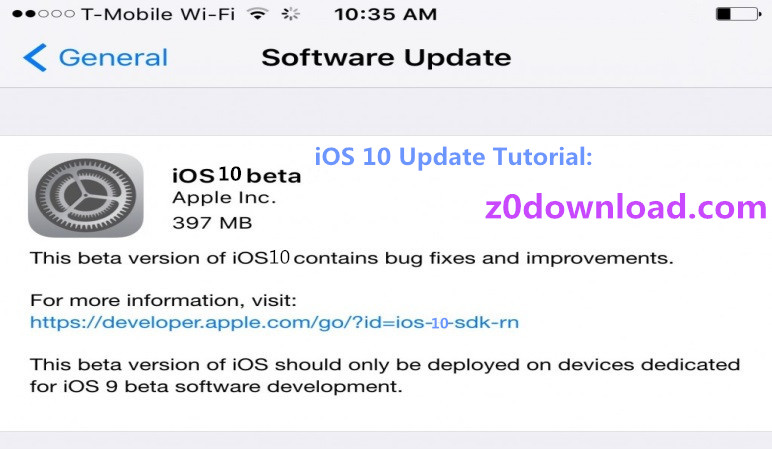 Of course, can not be qualified developers brush card, the second method, I will bring you brush card link, copy the link directly on your phone, then click Apply Safari, go to the following setup, complete iOS10 Beta1 upgrade . The download is complete, it will remind the restart before installing, click to confirm.

Developer's really hard to get qualified, then Difficulties? First you have to register as a member of the Apple Developer Program, you can choose a personal capacity or as a business, followed by a personal identification annual fee is $ 99, but with the corporate identity to join Apple Developer Program will need to pay $ 299 annual fee (in local currency date).
So imagine, to have this privilege escalation iOS10 Beta1 how hard it is, but by July, Apple will iOS 10 beta version available to all users.

Method 2: Install iOS 10 on iPhone,iPad with iTunes(Firmware Upgrade)

Tips: This method teach you how to Install iOS 10 Beta OTA Update Without Developer Account,please keep reading as below:

Step 2 . Before you can go ahead and download iOS 10 beta, you need to first enroll yourself into Apple Developer Program at https://developer.apple.com/programs/. If you are already registered on it, simply skip to Step 3.

Step 3 . Login to Account section of Apple Developer Program using your Apple ID: https://developer.apple.com/account/. And choose Join the developer program in the following page.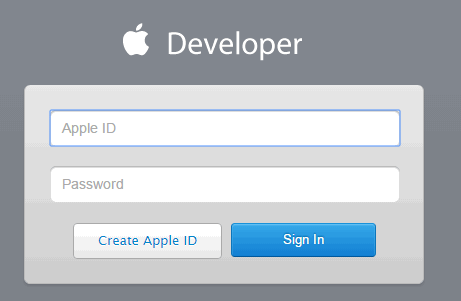 Step 4 . Now you will need to register your UDID with Apple for the iOS device you want to install the beta on. To find the UDID of your device, simply plug your device into iTunes, select it, and then click on the serial number for it to show the UDID. Now copy this number using "Ctrl+C" on Windows, or "Command+C" on Mac.

Step 5. Connect your iPhone to Computer via the original USB cable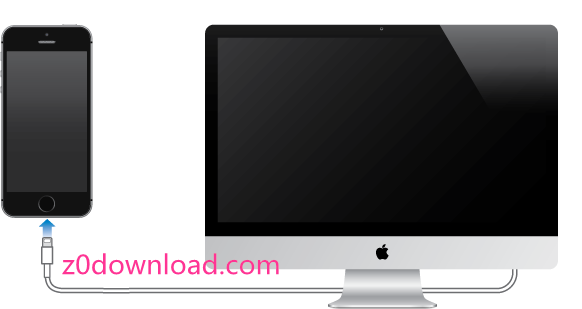 Step 6. After opening the latest version of iTunes software on your computer and wait for iTunes to identify our iPhone devices, tap the top right corner of the "iPhone" icon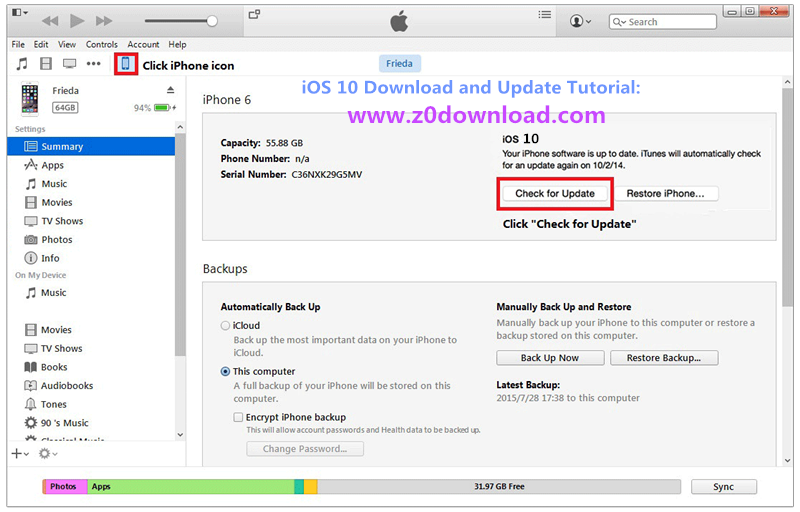 Step 7. Then iPhone summary management interface, first hold down the "Shift" key on your keyboard, then click the "Check for Updates" button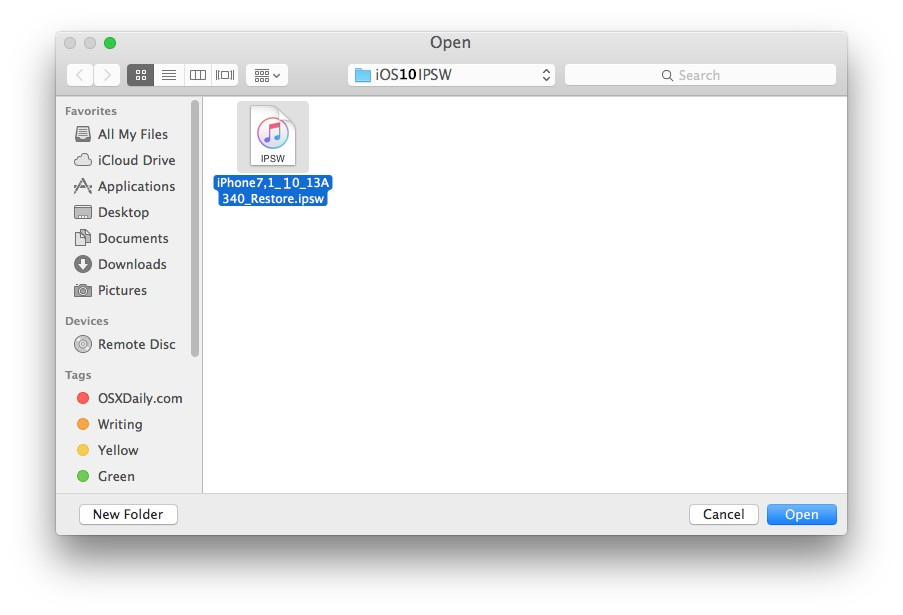 Step 8. In the pop-up firmware selection window, select iOS 10 firmware, click "Open" button
Step 9. Then iTunes will prompt us, whether you want to update to iOS 10, click "Update" to continue
Step 10. Wait the iTunes to extract the iOS 10 firmware
Step 11. After the extraction is complete firmware, iTunes will connect with Apple's update server to verify, verify that the firmware can be updated. Then you can see the phone screen display update progress
Step 12. Wait for the installation after the update is complete, if you are iPhone 6s model and set up the fingerprint to unlock it, you need to enter a password lock screen

Part 3: Downgrade iOS 10 to iOS 9.3.2 using ipsw file with iTunes

If you want to downgrad your iPhone from iOS 10 to iOS 9.3.2 by iTunes,first of all,please backup your iPhone data,and then get the latest version of iTunes and download the iOS 9.3.2 iPSW file,follow the similar tutorial above the downgrade your iPhone to iOS 9.3.2 from iOS 10 Beta thouth firware-downgrade method,in order to avoiding data loss.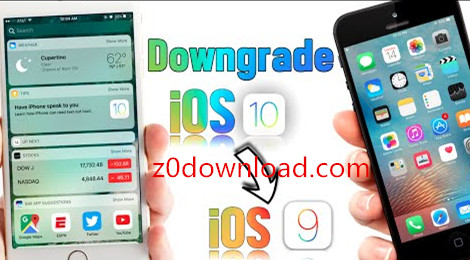 iOS 9.3.2 Download IPSW Links:
http://www.ios9cydia.com/ios-9-3-2-download.html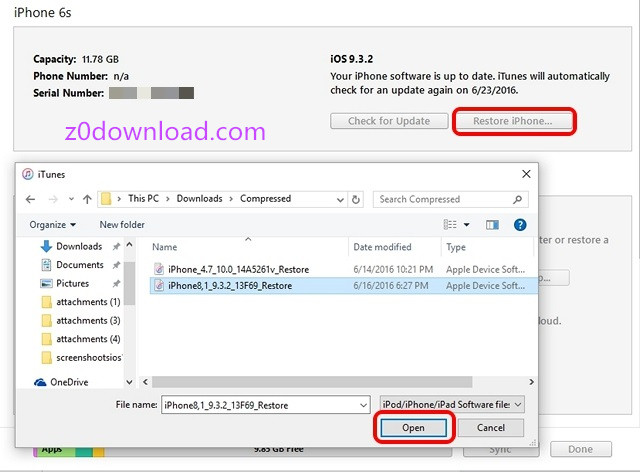 Tips: If your encountered some problem during the iOS 10 upgrade/downgrade process.Don't worry,the iOS System Recovery can help you get iPhone, iPad and iPod touch out of Recovery Mode, white screen, Apple logo, black screen, and fix the issues when your iPhone/iPad/iPod device perform abnormally due to iOS 10 update failure.The iOS System Repair tool can help users fix the operating system of your iOS device without data loss.
Please go to: How to Repair iOS System for iPhone,iPad


Part 4. Restore Data Back to your iPhone/iPad from Backup after iOS 10 Update

Now, you must have successfully upgraded to iOS 10,if you have back all data of iPhone/iPad/iPod by iOS Data Backup & Restore tool or Phone Transfer tool,you can still use this two different program to restore your backup files to the devices you need.In additional,the Phone Transfer also also you restore the backup data to Android Samsung Galaxy S7/S6/S5/Note 7/Note 6/Note 5 and other new phone,as well.

Way 1: Selectively Export or Restore Backup Data to iPhone by iOS Data Backup and Restore tool

If you have use the iOS Data Backup and Restore tool to backup all of data before iOS 10 upgrading, click "iOS Backup & Restore" beneath "Restore",you can check all contents of the backup file in categories. Moreover, you can check any of them for exporting or restoring. All you need to do is check the file that you want and click on the button at the right lower corner of the window. Then you can choose to restore the selected files to your iPhone, iPad or iPod touch. It's up to you.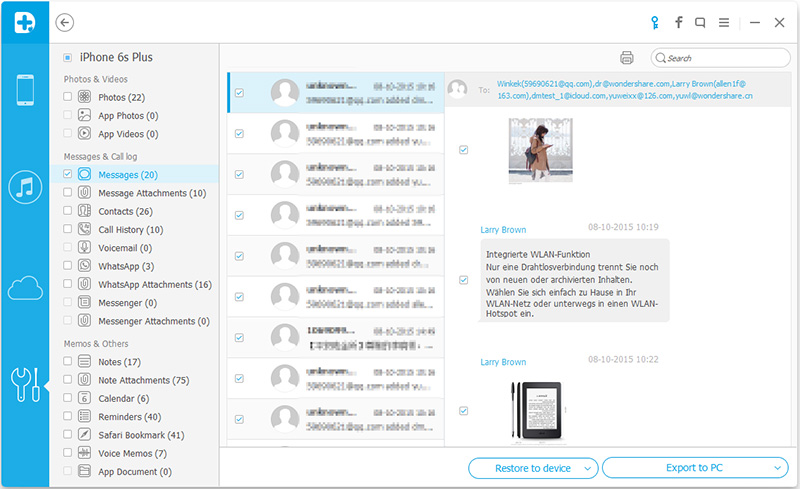 Way 2: Restore Data to iPhone,iPad and iPod from backup by Phone Transfer

In part 1,we have teach you how to backup all type of files from ios devices to comptuer by Phone Transfer,after finishing install iOS 10 on iPhone,iPad,iPod devices,you can use Phone Transfer to restore contacts, sms, photos, videos, call logs, notes and more to iPhone/iPad/iPod from backup files with 1 click easily.

Step 1.Run the Phone Transfer on comptuer or Mac and click "Restore From Backups" and press "MobileTrans" to going on.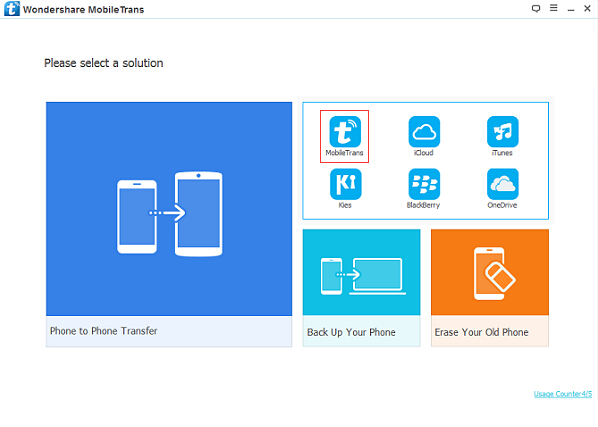 Step 2.Click and find the previous backup file from the drop-down menu and the program will start to scan and extract the data from it, when the scanning is finished, all the scanning result will be listed in the middle of window.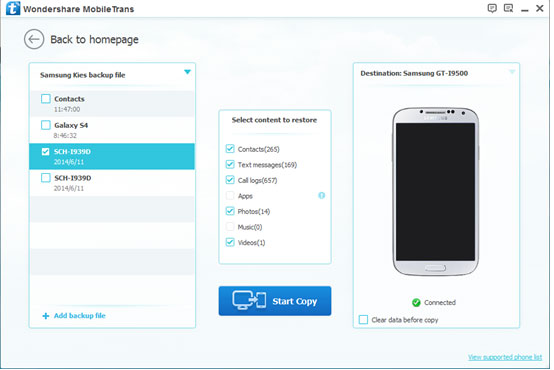 Step 3.You should select the files you wanna restore to Android,then click "Start Copy" to restore them to iPhone devices.

Tips: If you have bought a new phone,like new iPhone 7, iPhone 7 Pro, iPhone 7 Pro, Samsung Galaxy S8/S7/S6 one day,and wanna to switch data to a new phone, even an iOS device, Android devices, Symbian devices, BlackBerry phone, WinPhone, Phone Transfer not only can help you resotre your backup files to the new phone, or directly move contacts, sms, photos and other files between your old phone and new phone. Learn more>>

Related Articles:
---
How to Recover Lost iPhone Data after iOS 10 Upgrade

How to Backup and Restore Data from iPhone 6S/6

How to Transfer Contacts from Android to iPhone

How to Sync SMS from old iPhone to new iPhone

Transfer Whatsapp Messages from iPhone to iPhone

Switch Old Samsung to New Samsung Galaxy S7/S7 Edge

How to transfer Data from Samsung to iPhone/iPad/iPod